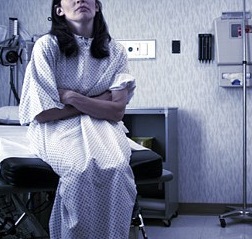 Cancer. HIV. Diabetes. Heart Disease.  Just a few of the words no one wants to hear from their doctor. You may have had nagging symptoms for months and come prepared for difficult news. Or you may feel just fine, with no idea that your lab results or physical examination may show worrisome results. Either way, being on the receiving end of a serious medical diagnosis brings a myriad of feelings and concerns.
What does this mean?
What treatment is recommended?
Can I talk to others who have the same condition?
How do I go on about my daily life?
Will people treat me differently?
Can I get through this?
First, what is a diagnosis?  From the Greek "dia-" for "by" and "gnosis" for "knowledge," diagnosis is a structured way that health care professionals identify  a condition or disease.
Diagnoses can be helpful for a number of reasons. One, a diagnosis can help you map your treatment plan with your doctor and understand your symptoms and prognosis. Two, it gives health professionals on your team a shared language with which to communicate with one another and with you about your condition. And three, if you have health care coverage, it provides information needed for your treatment to be covered by your insurer.
A diagnosis can hit you like a confusing, life-altering label. A client of mine expressed it this way: "Yesterday, I was Julie. Now I am 'Julie-with-breast-cancer.' Who is that?" A diagnosis may feel like something you are, rather than something you have. The emotional effects of illness are far-reaching, impacting the patient, their loved ones, their work, and their ability to perform and enjoy activities.
Whether you suspected illness or not, nothing prepares you for hearing the words from your physician. Additionally, each person is different, and your physiology (along with other factors like lifestyle and outlook) will have an impact on the course of your condition. There will be some variance in what you can expect – in that regard, a diagnosis is the beginning of the journey, not the end. We want answers, long term, definitive answers, but they may not be easily found.
When receiving a diagnosis of serious illness, you may want to learn as much as you can about the condition and how to manage its effects. Google is often the first place we turn when seeking information online. A search for "heart disease" brings up over 19 million links. The amount of  information available is overwhelming. Where do you start? What can you believe? In the resource list for this article, there are some excellent ideas for online health.
In order for your health care provider to best support you, it is vital that you communicate your symptoms, needs, habits, and concerns. Patients are also consumers. We may visit a car dealer with a list of questions and needs, but not our doctors. There is no time like the present to turn that around, and be an active participant in your treatment plan. If you do not feel well enough, enlist a trusted friend or family member to help you write a list of questions and concerns to take with you to your appointments
Your emotional needs come into play in dealing with an illness, and your family members may need support as well. Don't hesitate to reach out to others – whether a friend, support groups, members of the clergy, or a trained therapist who understands the emotional impact of illness.  By taking care of your body, mind, and soul, your journey through this process can feel more bearable.
Online Medical Resources (adapted from Dr. Jessie Gruman, Center for the Advancement of Health at: http://www.cfah.org/ )
The National Institutes of Health's MedlinePlus
nlm.nih.gov/medlineplus
Features a guide to "healthy" Web surfing.
How to Prepare for your Doctor's Visit by Dr. Susan Wang
http://www.youtube.com/watch?v=QNKmtNkXz2I
Information Therapy for Consumers
ixcenter.org
Has general advice about finding evidence-based medical information on the Internet.
The Medical Library Association
mlanet.org
Offers advice on evaluating health websites, and recommends the top-10 websites for cancer, diabetes, and heart disease information.
The Prepared Patient Forum
http://www.preparedpatientforum.org/
Discussion of finding and utilizing good health care.
The National Cancer Institute
cancer.gov
Features a fact sheet about evaluating health information on the Internet, which offers tips for determining whether a website is potentially biased, unreliable, or out of date.
Health Compass
healthcompass.com
A site from the American Federation for Aging Research and the Merck Institute of Aging and Health that aims to help older health consumers navigate the Internet for information.
© Copyright 2010 by Tammy Fletcher, M.A.. All Rights Reserved. Permission to publish granted to GoodTherapy.org.
The preceding article was solely written by the author named above. Any views and opinions expressed are not necessarily shared by GoodTherapy.org. Questions or concerns about the preceding article can be directed to the author or posted as a comment below.