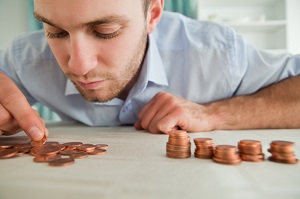 Myth No. 7: "Therapy is endless and will cost a fortune."
Reality: Although we are all works in progress and we may go through periods when we need the guidance of a therapist, therapy is usually not endless. Indeed, there are some folks who wind up staying in therapy for decades. Yes, sometimes this is a result of the therapist encouraging or fostering dependency, and sometimes it's simply because the person in therapy has decades of work to do to undo the effects of the past. A 2010 study in the American Journal of Psychiatry concluded that nearly half of people in therapy use three to 10 sessions. One in nine has more than 20 sessions.
I would venture to say that many people don't stay in therapy long enough. Many run away when they begin to feel too vulnerable, and others have their therapy prematurely terminated by the therapist before doing the deeper work. Some therapy approaches follow a cookie-cutter, time-limited approach and put way too much emphasis on demonstrating that therapy can be completed within a certain time period, which probably puts these approaches in the favor of insurance companies, which like standardized, time-limited benefits for financial reasons.
Of course, many people are also drawn to short-term therapy for financial reasons. And no doubt therapy is expensive. The average hour-long session varies from about $100 to $150, but you should be getting your money's worth if you're seeing progress and making the changes you want to make.
For me, therapy was a personal investment. I spent five years doing my own therapy once per week during a time in my life when I couldn't afford it. There was pain from my past that I knew I needed to address, and for me it warranted using my credit cards and going into debt. Now, I'm not encouraging you to do the same—that's a decision only you can make. But my view is that good therapy is worth the time and money. Therapy should take as long as it needs to take, and I'd argue that there is greater cost for not doing the inner work to improve the quality of your life. When you consider how your well-being—or lack of it—will impact your relationships, health, career success, and overall life satisfaction, therapy is an investment clearly worth making.
Editor's note: For more articles examining common myths and fears surrounding psychotherapy, please click here.
Reference:
Alpert, Jonathan. (2012, April 21). In Therapy Forever? Enough Already. The New York Times. Retrieved from http://www.nytimes.com/2012/04/22/opinion/sunday/in-therapy-forever-enough-already.html?_r=0
© Copyright 2013 GoodTherapy.org. All rights reserved.
The preceding article was solely written by the author named above. Any views and opinions expressed are not necessarily shared by GoodTherapy.org. Questions or concerns about the preceding article can be directed to the author or posted as a comment below.