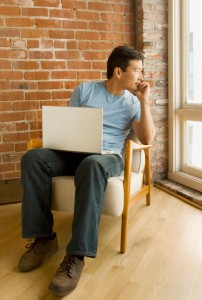 There is a new conceptual scaffolding for mood experience being built in some scientific circles. It is radically simple and accessible. Dr. Richard Davidson of the Center for Healthy Minds at University of Wisconsin-Madison is raising awareness to concepts such as emotions, well-being, and mind. He frequently references a study on mind wandering conducted at Harvard and published in 2010 that binds attention with happiness.
Killingsworth and Gilbert (2010) used a messaging application for smartphones to systematically contact the participants throughout a given day in an attempt to extract real-world data related to attention. This study used "a quarter of a million samples from about 5,000 people from 83 different countries who range in age from 18 to 88 and who collectively represent every one of 86 major occupational categories" (Killingsworth & Gilbert, 2010).
The participants would receive a message stating, "How are you feeling right now?" with respondents using a Likert scale of 0 to 100. The researchers asked what they were doing in that moment (across 22 activity categories) along with, "Are you thinking about something other than what you're currently doing?" The participant would respond by either saying yes or no to this question of attention. If they were thinking of something else, the thinking was categorized as either pleasant, neutral, or unpleasant.
The findings were compelling. The participants were "mind wandering" approximately 47% of the time on basically every category except for while having sexual relations. Simply put, almost half the time, people were doing one thing and thinking about something else.
More importantly, "people were less happy when their minds were wandering than when they were not." In addition, "the nature of people's activities had only a modest impact on whether their minds wandered and had almost no impact on the pleasantness of the topics to which their minds wandered" (Killingsworth & Gilbert, 2010). We tend to equate our mood with what we are doing or when we are doing something, but this research suggests that it is our intentional awareness driving our mood.
The participants' happiness ratings were not increased if they were wrapped up in pleasant thoughts while doing an activity and were considerably less happy when contemplating neutral topics (Killingsworth & Gilbert, 2010). The researchers conclude by emphatically stating that "mind wandering in our sample was generally the cause, and not the merely the consequence, of unhappiness" and that "what people were thinking was a better predictor of their happiness than was what they were doing" (Killingsworth & Gilbert, 2010).
We are the guardians of our own subjective happiness and are not passive cogs in entertainment pleasure systems. The key to unlocking satisfaction is our ability to connect with other people.
This defies Western principles regarding consumption and acquisition, which are the propellers of present-day economies. The idea that self-liberation will be achieved by striving for more and obtaining the newest product is embedded in today's modern culture (Cushman, 1995). However, more and more psychological data are pointing the arrow of satisfaction toward our own innate mental abilities. We are the guardians of our own subjective happiness and are not passive cogs in entertainment pleasure systems. The key to unlocking satisfaction is our ability to connect with other people.
The logic follows that our timely ability to harness awareness in certain domains would promote well-being. This fits with Davidson's promotion of well-being as a skill obtainable to the masses. Much of his more recent research has focused on what are often deemed "positive" attributes in psychology. The one at the core of mindfulness practices is empathy. This is when one taps into the internal emotional state of another human being while maintaining a goodwill approach (Light et al., 2015). The "goodwill" concept can be described as the wish and intention for positive regard or desired happiness of others (Light et al., 2015).
To establish empathy, you must take another person's emotional or interior perspective while assuming they are in need of an empathic response. "Empathic happiness is defined here as the combined ability to share in the positive emotional experience of another and experience an other-oriented feeling of goodwill" (Light et al., 2015; p. 117).
Intentionally attending to what is arising for others breeds empathy and compassion within relationships. There is no object of focus or thing to do that inherently creates happiness, but rather a delicate letting go of self-constructed thoughts, beliefs, or fantasies in order to tap into the richness of the here and now. Presence cannot be grasped or encapsulated because, unlike the past and future, the present moment is gone before you—alone—can really notice it.
References:
Cushman, P. (1995). Constructing the self, constructing America: A cultural history of psychotherapy. Boston, MA: Addison-Wesley Pub.
Killingsworth, M. A., & Gilbert, D. T. (2010). A wandering mind is an unhappy mind. Science, 330, 932.
Light, S.N., Moran, Z.D., Swander, L., Le, V., Cage, B., Burghy, C., Westbrook, C., Greishar, L., & Davidson, R.J. (2015). Electromyographically assessed empathic concern and empathic happiness predict increased prosocial behavior in adults. Biological Psychology, 104, 116–129. Retrieved from http://dx.doi.org/10.1016/j.biopsycho.2014.11.015
© Copyright 2016 GoodTherapy.org. All rights reserved. Permission to publish granted by Andrew Archer, LCSW, GoodTherapy.org Topic Expert Contributor
The preceding article was solely written by the author named above. Any views and opinions expressed are not necessarily shared by GoodTherapy.org. Questions or concerns about the preceding article can be directed to the author or posted as a comment below.