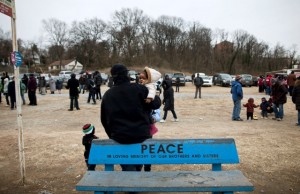 The film Selma takes us on a three-month journey of Dr. Martin Luther King, his associates, his wife, and the events leading up to the march for voting rights in Selma, Alabama in 1964. It depicts horrific violence that included beatings, stabbings, and shooting deaths of black people. Even though recent (and not-so-recent) events remind us that the same level of violence and brutality still exist in our country and around the globe, in many ways racism in the United States has made advances.
People work alongside each other, live together, and worship together. No longer is it commonplace for gangs of people to stroll through neighborhoods randomly assaulting people. Though it still occurs, it is less prevalent and much less tolerated than it was decades ago.
As a black, professional, middle-class woman living in an urban city, I don't worry about lynchings or hangings the way I would have 50 or 60 years ago. Though I've been called the n-word (early 1990s) and been denied seating at a restaurant (late 1990s), I find that my concern for those acts of racism and prejudice/discrimination has waned, and I don't brace or prepare myself for it as I once did.
The racism of today is more hidden, insidious, and often conducted by well-intentioned people. Microaggression, a term coined by Dr. Chester Pierce in the 1970s and built upon by Dr. Derald W. Sue, describes an "everyday slight, putdown, indignity, or invalidation unintentionally directed toward a marginalized group." A key point in this definition is the unintention of it. There is no malice or intent to harm from the person committing a microaggression.
Because there is no malice and because they often occur within relationships with people who know each other, it can be difficult to name and then stop microaggressions. For the recipient or victim, there's a lot of self-doubt and second-guessing. It also leads to a heightened level of anxiety as the person attempts to sort through the meaning, intent, and insult of another person.
The giver or perpetrator of the microaggression typically is unaware that he or she was offensive, deny it, become defensive, and in turn blames the recipient for being too sensitive or for overreacting.
Most people are familiar with the microaggression of a minority person being followed by a salesperson in a clothing store, or the one where a white person moves to the other side of the street when a black man approaches. But there are many other common instances of microaggressions that people of color face on a daily basis.
One I get often is, "You don't sound black." This caused me much angst and anxiety for many years—until my first experience in therapy with a black woman who called it out for what it is.
"Is it your tone, your inflection? What is it that makes people think that you don't sound black?" she asked me. It was the words that I used and, more importantly, that I chose not to use slang words in professional settings. The assumption of how I would speak based on the color of my skin and the fact I spoke English in the same way as my white peers was the foundation of the microaggression. That some people say "you don't sound black" as if it were a compliment, as though I would be grateful, only compounds the microaggression.
Years ago, I wore dreadlocks and had recently gotten them retwisted. A white colleague commented that he really liked my hair this way, much better than how it had been. Hmm. He managed to cloak a compliment within an insult and smiled the entire time. Though he meant no harm, he acted on the assumption that his opinion of my hair would be welcomed without any regard or understanding of how it impacted me.
I left that job more than 10 years ago. I don't remember his name and I don't consciously carry around the emotional weight or baggage of that interaction. But when I needed to recall my own personal microaggressions in order to write this article, that one quickly came to mind. The wounds that microaggressions cause are deep. Without meaningful interventions for both the giver/perpetrator and the recipient/victim, they will continue.
In my next article, I'll cover a more comprehensive list of common microaggressions. I'll also discuss different interventions for identifying and dealing with them in healthy ways.
GoodTherapy.org provides a wonderful medium to have this difficult and emotional conversation. I invite you to share your own experiences with microaggressions in the comments section below. What happened? What was said or done? How did you respond?

The preceding article was solely written by the author named above. Any views and opinions expressed are not necessarily shared by GoodTherapy.org. Questions or concerns about the preceding article can be directed to the author or posted as a comment below.