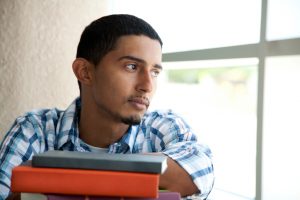 More than 75% of mental health conditions appear before age 24, according to the National Alliance on Mental Health (NAMI). For many people, symptoms first develop in college. Now, research suggests the frequency of mental health difficulties among college students is rising. According to Pennsylvania State University's Center for Collegiate Mental Health, the number of students seeking mental health assistance increased by 50% between 2015 and 2016.
Depression and substance use issues are common among college students. Twelve percent of freshmen say they are depressed. For some students, the stress of college life—being away from home for the first time, struggling to make friends, and juggling work and school—can trigger mental health difficulties.
Students typically have access to college counseling centers. These centers can help with diagnosis and treatment, and they can offer students the coping skills they need to manage their mental health. When they leave college, many students face a post-college mental health gap. Access to affordable, quality care is limited. After college, graduates may face high co-pays or insurance restrictions on which therapists they can see.
Mental and physical health are inextricably linked. At least 47 physical illnesses may first manifest as anxiety or depression, according to a new article. Because anxiety is often the first symptom of these medical problems, doctors may dismiss the problem as "only" psychological.
Hamlet has long been portrayed as simply "mad." In a world where people are increasingly conscious of mental health issues and the stigma surrounding them, actor Andrew Scott says this strategy no longer works.
A new initiative in the United Kingdom will provide teachers at every secondary school in the country with specialized mental health training. Over the next three years, at least 3,000 educators and staff will learn how to recognize a variety of mental health issues. Social enterprise Mental Health First Aid will be administering the program, which is backed by government funding. The program will expand to include primary schools in the next five years.
More than two-thirds of incarcerated women have a mental health condition, making mental health issues more common among women prisoners than their male counterparts. Access to quality mental health care among incarcerated women is sparse, and prison may exacerbate mental health issues.
To the Bone, a new Netflix original movie, tells the story of a 20-year-old seeking treatment for anorexia. Though the film's creators say the movie is meant to be a conversation starter about an often taboo subject, some mental health professionals say the film could glamorize eating disorders. The trailer's hint at a happy ending could suggest eating disorders are a path to a positive outcome. This, some advocates suggest, warrants a trigger warning. Netflix was recently the subject of criticism for 13 Reasons Why, a series that portrays a young woman's suicide.
People at a heightened risk of chronic pain and opioid abuse can successfully taper down their post-surgical opioid use with psychological support, according to a new study. The study found those who received psychological support, including assistance pursuing meaningful activities, were less likely to report mood issues. They also had lower rates of opioid use.

The preceding article was solely written by the author named above. Any views and opinions expressed are not necessarily shared by GoodTherapy.org. Questions or concerns about the preceding article can be directed to the author or posted as a comment below.