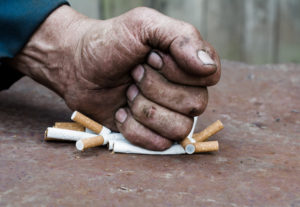 Medication alone does not help smokers quit, according to a study published in the Journal of the National Cancer Institute. The study analyzed the efficacy of varenicline, bupropion, and nicotine replacement therapy.
A separate study, published in the British Journal of Pharmacology, points to one medication-free strategy that might help: exercise. The study found that when mice did moderate exercise, they experienced a reduction in nicotine withdrawal symptoms.
Does Medication Help Smokers Quit?
Doctors, public health agencies, and quit-assist lines often encourage smokers to try nicotine replacement therapy (NRT) or medication. About a third of smokers do. Yet many who try these strategies are unable to quit, despite promising data supporting their use.
To test the effectiveness of these strategies, researchers compared two cohorts of people attempting to quit smoking. They analyzed data from 2,129 people, matching those who used smoking cessation medication to a similar group who did not. Next, they controlled for factors linked to smoking cessation success, such as previous quit history, smoking intensity, education, and self-efficacy.
The researchers recorded how many people could abstain from smoking for at least 30 days. They found medication did not increase the likelihood of smoking cessation.
A number of randomized controlled trials have found smoking cessation medication does work. This study's authors suggest that another variable could explain this result: the use of support services. People quitting smoking in the real world may not have access to supportive therapy or education, but those participating in studies often do. By removing this additional aid, researchers were able to assess the efficacy of smoking cessation medications alone.
Exercise as a Smoking Cessation Aid
Smokers concerned about their ability to quit smoking may wish to consider the results of a small study of mice. Researchers observed mice who ran for either two hours or 24 hours in an exercise wheel—the mouse equivalents of moderate or intense exercise. Both groups of exercising mice had milder symptoms of nicotine withdrawal than mice who did not exercise.
The brains of the mice who exercised also displayed changes linked to smoking cessation success. Running increased activation of a receptor called alpha-7 nicotinic acetylcholine. This nicotine receptor may play a role in nicotine withdrawal and cigarette cravings.
Previous research has shown exercise can help with anxiety, depression, and other conditions. Smokers attempting to quit may feel anxious or depressed, so exercise may also help reduce some of the effects of these additional challenges of quitting smoking.
References:
How exercise is key to successfully quitting smoking. (2017, December 19). Science Daily. Retrieved from https://www.sciencedaily.com/releases/2017/12/171219220355.htm
Leas, E. C., Pierce, J. P., Benmarhnia, T., White, M. M., Noble, M. L., Trinidad, D. R., & Strong, D. R. (2017). Effectiveness of pharmaceutical smoking cessation aids in a nationally representative cohort of American smokers. JNCI: Journal of the National Cancer Institute. doi:10.1093/jnci/djx240
Study: Medications alone don't help smokers quit. (2017, December 20). EurekAlert. Retrieved from https://www.eurekalert.org/pub_releases/2017-12/uoc–sma122017.php

The preceding article was solely written by the author named above. Any views and opinions expressed are not necessarily shared by GoodTherapy.org. Questions or concerns about the preceding article can be directed to the author or posted as a comment below.