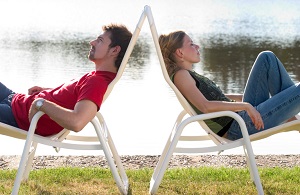 Conflict can seem like a divisive and dangerous force in a romantic relationship. The early stage of attraction to a new love gives us the sense that we are understood in a way that is unique and thrilling. Feeling close through affirming our similarities, we move into the relationship in a state of gratification that feels seamless and reliable.
Nevertheless, experiencing conflict is inevitable. Couples who strive to entirely avoid it are at risk of developing stagnant and superficial relationships.
Systems for conflict resolution have been developed for use in business disputes and international relations. When it comes to personal lives, though, couples would do better to think in terms of "managing" rather than "resolving" conflict. The term resolution suggests the conflict will go away and not be a problem anymore, yet this is the exception in intimate partnerships; most conflicts couples experience are never "resolved," even in the happiest relationships.
Does this mean all couples are doomed to spend their lives locked in bickering and disagreement? Not at all! Those who address differences capably, talking productively and being kind toward one another, report that conflict can serve to create greater closeness in a relationship.
Couples seem to wrangle with differences that fall into two categories. Discussions over "perpetual problems" recur repeatedly and tend to cause hurt feelings. These constitute the majority of problems couples deal with—about 69%. Other issues—the remaining 31%—are "solvable problems," meaning the couple finds a way to take care of the problem so that it is no longer a concern for either person.
These solvable and perpetual problems can be about any subject. Some couples struggle with these questions, and others find them easy to agree on: Is it fair if one earns more money than the other? Who should stay home with the kids? How do you decide where to go on vacation? These and the myriad other details of cohabitation are fair game for becoming either perpetual or solvable, depending on the particular histories and emotional vulnerabilities of each person.
The solvability or perpetuity of the problem originates not in the particular subject the couple is arguing about, but in the meaning the subject has for each person. If the couple can arrive at a solution to a problem, it is usually because each person is able to let go of any personal reaction to the topic and concede or compromise.
Since many aspects of life as a couple touch on our deeply held values and personal beliefs, the choices we face together are likely to sometimes set off moral or emotional "alarm bells" in us when we perceive a difference with our partner.
Couples may argue about household tasks because one partner feels that coming home after work means leaving behind the cares of the day while the other feels soothed by order and tidiness. Disagreements about money may be related to practical concerns such as paying the bills, but the two partners have a very different sense of the bank balance they need in order to feel secure.
A couple can get caught up in a bitter debate about which kind of stove to buy for their kitchen when really they're arguing about who holds the power in the relationship, or one feeling disrespected and dismissed. The conversations these couples need to have are not about the content that just pulls them further into the fight, but about their perceptions, beliefs, and emotions.
Differences can be a source of interest and fresh energy rather than cause us to dig in our heels and defend our positions.

The preceding article was solely written by the author named above. Any views and opinions expressed are not necessarily shared by GoodTherapy.org. Questions or concerns about the preceding article can be directed to the author or posted as a comment below.