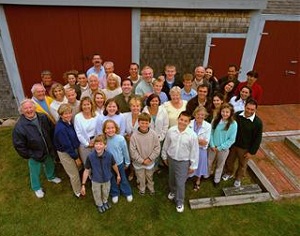 When we're first in love with our partners, the world can feel like a very small place. We only have eyes for one another, and that bond, born of words, actions, gestures, physical touch, and hormones is a marvel of human experience. In that intimate couple experience, we might plan a future together. We imagine creating our own, two-person family, and what challenges, joy, and pleasure that will bring. We begin to share our joy with others, particularly our friends, siblings, and parents. Then the truth sets in: We are both members of an extended family, quite different families, as a matter of fact. Our marriage will bring our partner's family immediately into our own, whether we are prepared, interested, or happy about that fact at all. We will become, and will have, "in-laws."
And what a reality check that experience becomes. That whole emotional system is wrapped up in your beloved: the astronauts and the dropouts; the kind and the cruel. Your partner has a complex history with these folks, a history that you don't yet share and may not immediately appreciate. That quirky sense of humor you have? Your new mother-in-law may find it unusual, or even offensive.  Your partner's passion for books and research? No one in your family understands it and never asks her about her work. A healthy marriage will find ways to talk about this truth and face the experience together. It may be hard, because human loyalties run deep, even to broken or chaotic families. To your partner, an unexpected harsh word or angry critique about his or her family may make you seem the stranger. And that may be exactly how you feel at times.
Getting married means figuring out how to live with these automatic family relationships. Navigating early marital decisions like getting married and where, one's last name, where one lives, finances, life insurance, holidays, and vacations can all involve issues we have to juggle from our families of origin. It can be exhausting and stressful, even in the happiest of relationships. Here are four suggestions to making this adjustment as healthy and positive as possible, to you, your partner, and one another's family members.
Show up. Nothing helps a family adjust to a new in-law more than your consistent, steady presence. You don't have to attend every single thing your partner's family plans throughout the year, but be sure you both attend the major gatherings together. Make it a point to have individual conversations with different people in the family. As they get to know you, you'll feel more at home and less the stranger. Even if you need to take regular breaks to go for a walk, take a nap, or read your book, just being there is important.
Respect the differences. You don't have to suddenly become a Packers fan when you've had Vikings season tickets for years, but you do want to be a good sport and recognize the differences you have with your in-laws. They are Catholic and you're Baptist? Learn about their faith traditions and grow in your appreciation for what's important to them. Don't expect them to become different just for you. Learn who they are, appreciate their choices, and you will find a place of increasing welcome.
Negotiate. Bring your best skills of win-win to conversations that require hard decisions. Both grandparents want to see the children at Christmas? Each family has unique expectations for adult birthday parties? Your family has a big family reunion every year and your partner is an only child and can't see the point? Figure out what is important and decide to try to reach a compromise or shared success. Keep talking about the compromises you are making, and as much as possible, keep an open mind and sense of humor.
Maintain your boundaries when it counts. Life in all close relationships requires holding the line when important differences separate us. You're a recovering alcoholic and some in the family drink themselves under the table every holiday? Speak up and leave events early. You expect to baptize your baby and your brother-in-law hates the church? Invite him, or not: it's your religious event. Some of your in-laws smoke and you can't stand it? Ask them to light up on the steps of your house when they visit. Your preferences count. Just because you want to belong doesn't mean you give up your personal rights and responsibilities.
Getting married means that you become part of your partner's extended family, for better or worse. Having a positive attitude and looking for the good in one another will go a very long way to making that automatic group of in-laws feel more like the new family you hope it to be.
Related articles:
Shutting Out A Family Member
The Two-Faith Marriage
© Copyright 2012 GoodTherapy.org. All rights reserved.
The preceding article was solely written by the author named above. Any views and opinions expressed are not necessarily shared by GoodTherapy.org. Questions or concerns about the preceding article can be directed to the author or posted as a comment below.