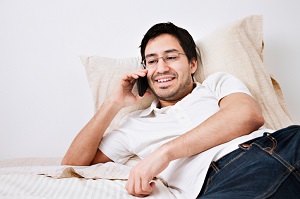 Relationships require maintenance, effort, and work by both partners. Careers and families can mean even more attention has to be devoted to the relationship. But when couples choose to live in different geographical locations, can mere maintenance and effort be enough to sustain that type of long-distance love? According to some, it definitely can.
In a recent article, experts reveal what is required to keep the love alive across countries and even continents. Marriage looks different today, and economic conditions have forced many couples to take jobs in different areas, whether temporarily or permanently. Educational opportunities have also created a new dynamic in living arrangements, resulting in extended periods of separation for academic advancement.
Dr. Sameer Malhotra, a psychologist and psychotherapist, believes that these days it is not unusual for couples to live apart for long lengths of time. Malhotra says that the most important thing is not the distance, but how each partner approaches the relationship. Taking the energy and time to stay in contact through visits and phone calls adds a lot to the emotional bond. Even gifts and small gestures that remind each partner of the other can serve to keep the relationship strong and close.
Although the decision to live apart is often one that is entered into after both parties provide their input, for some partners, they do not have a choice. This is especially true for women in countries such as India and for women in cultures that do not allow for equality in marriage.
So how do these women adjust to such arrangements? They rely on extended family and in-laws to help sustain their relationships. But according to Gitanjali Sharma, a marriage and relationship counselor, this does not always go smoothly.
"Discrepancies may arise if the in-laws are not supportive," says Sharma. "They should be willing to bridge the communication gap between the partners instead of straining their relationship further." Overall, it is not the number of miles between partners that determines the strength of their marriage, but what they do to stay emotionally close despite that distance.
Reference:
Mazumdar, Arunima. (2013). Distance, hardly a barrier in marriage. Times of India (n.d.): n. pag. Web. timesofindia.indiatimes.com/life-style/relationships/man-woman/Distance-hardly-a-barrier-in-marriage/articleshow/12821646.cms
© Copyright 2013 GoodTherapy.org. All rights reserved.
The preceding article was solely written by the author named above. Any views and opinions expressed are not necessarily shared by GoodTherapy.org. Questions or concerns about the preceding article can be directed to the author or posted as a comment below.