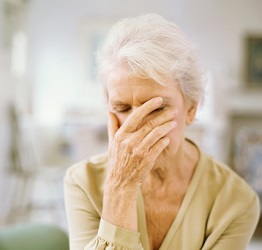 We tend to assume people commit suicide as a result of mental health problems and not just due to difficult life circumstances. Research does show that mental health issues can lead to suicide, and about 2% of people hospitalized for depression eventually kill themselves. According to a new study, though, depression alone isn't the only catalyst for suicidal thoughts in older adults. Instead, seniors cite numerous life problems as a primary suicide cause.
How Life Challenges Contribute to Suicidal Thoughts
In the study, researchers evaluated symptoms of depression in almost 3,500 New Yorkers ranging in age from 65 to 75. They also asked participants if they had felt that they would be better off dead within the last two weeks, or if they had contemplated harming themselves. Researchers followed up with people who expressed suicidal thoughts and were able to coordinate a group of 60 seniors willing to talk about their feelings.
Researchers asked these seniors about their reasons for considering suicide. About 75% of respondents cited life challenges such as financial struggles, legal concerns, family conflicts, or grief. Only 25% said they were depressed. The majority of seniors who cited life problems as a reason for suicide pointed to family relationships. About half said they had sufficient social support, while the other half said they did not. This research suggests that the challenges of growing old coupled with the everyday stresses of life could play a significant role in suicide among older Americans. 
Suicide and Seniors
Suicide rates among older adults are high. Of those over 65, 14.9 out of 100,000 commit suicide every year. Though elderly adults make up only 12.5% of the population, they account for 15.7% of suicide victims. Older Americans frequently suffer from loneliness and insufficient social support. They may also be victimized by mental health stigma that prevents them from getting appropriate mental health care when they need it. Seniors with appropriate support can and do recover from suicidal thoughts, though. The Center for Elderly Suicide Prevention, for example, places 3,500 calls to "at-risk" seniors every month, and similar services across the country are working to reduce the rate of suicide among seniors.
If you or someone you know is struggling with suicidal thoughts, contact a mental health professional or call the National Suicide Prevention Lifeline 1-800-278-8255.
References:
Does depression increase the risk for suicide? (2008, May 7). Retrieved from http://answers.hhs.gov/questions/3200
Elderly suicide fact sheet [PDF]. (n.d.). Washington, D.C.: American Association of Suicidology.
Graham, J. (2014, August 1). Many problems lead to thoughts of suicide, study finds. Retrieved from http://newoldage.blogs.nytimes.com/2014/08/01/many-problems-lead-to-thoughts-of-suicide-study-finds/?_php=true&_type=blogs&_php=true&_type=blogs&ref=health&_r=1&
Span, P. (2013, August 7). Suicide rates are high among the elderly. Retrieved from http://newoldage.blogs.nytimes.com/2013/08/07/high-suicide-rates-among-the-elderly/?_php=true&_type=blogs&_r=0

The preceding article was solely written by the author named above. Any views and opinions expressed are not necessarily shared by GoodTherapy.org. Questions or concerns about the preceding article can be directed to the author or posted as a comment below.