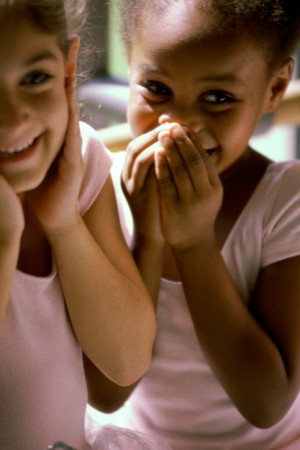 The way people laugh may reveal whether they are laughing in the presence of friends or acquaintances. A study published in the Proceedings of the National Academy of Sciences reports people are able to identify the social meaning of laughter at a rate somewhat higher than chance would suggest—even when they listen to laughs from another culture.
Does Laughter Mean the Same Thing to Different Cultures?
Lead researcher Gregory Bryan, a psychologist, recorded conversations of American college students speaking to friends or people they hardly new. He isolated laughter recordings of about one second from both groups, including laughter from pairs of men and women.
Next, Bryan and his team played the recordings for 966 participants from 24 different places, including Peru, India, New Guinea, and China. They did not give the participants any additional information on the laughter or its context, asking only whether the laughter sounded like it came from friends or strangers.
Regardless of cultural differences, participants were able to detect which recordings involved friends at a rate slightly higher than random chance would predict. Participants correctly assessed which pairs were friends in 53-67% of recordings.
Accuracy increased when the laughing pair was female, with participants struggling more to identify the social meaning of laughter shared between men.
Understanding the Sounds of Laughter
The researchers conducted an acoustic analysis to assess differences between the recordings. They found laughter shared among friends sounded different, with a higher pitch and more erratic volume.
This suggests laughter plays the same important role in social bonding across cultures, meaning laughter is an evolved social norm that aids human cooperation. Some researchers believe human laughter evolved from the pants and breathing patterns that some non-human primates—including chimpanzees—display when they are playing.
References:
Bryant, G. A., Fessler, D. M., Fusaroli, R., Clint, E., Aarøe, L., Apicella, C. L., . . . Zhou, Y. (2016). Detecting affiliation in colaughter across 24 societies. Proceedings of the National Academy of Sciences. doi:10.1073/pnas.1524993113
Doucleff, M. (2016, April 11). Ha ha ha haha. The sound of laughter tells more than you think. Retrieved from http://wmot.org/post/ha-ha-ha-haha-sound-laughter-tells-more-you-think#stream/0
O'Hare, R. (2016, April 12). Getting in on the joke: Listening to how two people laugh together can reveal whether they are friends or total strangers. Retrieved from http://www.dailymail.co.uk/sciencetech/article-3534287/Getting-joke-Listening-two-people-laugh-reveal-friends-total-strangers.html
© Copyright 2016 GoodTherapy.org. All rights reserved.
The preceding article was solely written by the author named above. Any views and opinions expressed are not necessarily shared by GoodTherapy.org. Questions or concerns about the preceding article can be directed to the author or posted as a comment below.