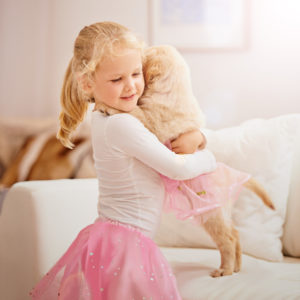 Despite widespread belief that pets can improve children's physical and mental health, a study published in the journal Anthrozoos has found no health benefits to pet ownership. The study is the largest ever to explore the effects of pets on kids' health.
Most previous research looked at a correlation between pet ownership and health without exploring other factors in pet-owning homes that might contribute to improved health. The new study found kids in pet-owning homes are healthier, but once researchers controlled for other factors linked to better health, the correlation disappeared.
Does Pet Ownership Improve Kids' Health?
The study used data from the 2003 California Health Interview Survey to compare 2,236 children in pet-owning households to 2,955 children without household pets. Researchers explored the effects of living with a dog or cat on measures of health such as activity level, behavior, mood, and learning ability. The study found children who owned pets were significantly healthier than those who didn't.
However, researchers then used a double robust regression analysis to adjust for other factors that might improve child health. After this adjustment, they found no statistically significant correlation between pet ownership and better health.
Other Pet Ownership Research
For parents who do not want pets but who value good health, the research may come as good news.
Families should note, however, that the study did not debunk every potential benefit of pet ownership, particularly for children with mental health needs. A study published in 2015 found pet dogs might reduce anxiety in children. A 2016 study found people diagnosed with mental health conditions may find that their pets can help them to effectively manage symptoms. Research published in 2017 found some children have better relationships with their pets than with their siblings.
More research is necessary to assess the role of pets in children's health and to attempt to replicate the results of the latest study.
References:
Largest-ever study of pets and kids' health finds no link. (2017, August 7). Retrieved from https://www.sciencedaily.com/releases/2017/08/170807120516.htm
Miles, J. N., Parast, L., Babey, S. H., Griffin, B. A., & Saunders, J. M. (2017). A propensity-score-weighted population-based study of the health benefits of dogs and cats for children. Anthrozoos, 30(3). doi:10.1080/08927936.2017.1335103
© Copyright 2017 GoodTherapy.org. All rights reserved.
The preceding article was solely written by the author named above. Any views and opinions expressed are not necessarily shared by GoodTherapy.org. Questions or concerns about the preceding article can be directed to the author or posted as a comment below.