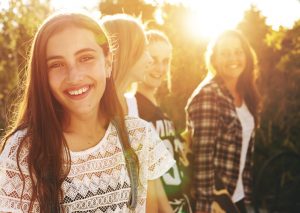 Pop culture has forever impacted your teenage daughter. She may have idolized Hermione Granger, the heroine from Harry Potter, in her younger years—and perhaps she still does. But she is also probably quite aware that pouty-lipped glamour girls, such as the Kardashian sisters, are the ones who are often more likely to get noticed. Various forms of social media provide ample material for comparing who has what, who looks like what, who goes where—enabling her to determine how she stacks up by the standards of pop culture.
As a parent to two teenage daughters and a counselor to countless others, I am deeply troubled by the number of girls today who believe they are inferior if they don't know how to contour their makeup or if they don't have a round enough backside. I am in no way a prude nor a traditionalist, but I am concerned "well-rounded" has taken on an entirely new meaning. What happened to intelligence? Integrity? Resilience? It seems that for many, these traits are about as essential as VHS tapes, and enormous amounts of verbal and emotional energy are necessary to fight this discouraging trend.
Let's consider the Kardashians for a moment. I'm sure they are a nice family just trying to make a buck, and I respect them for that. But they don't often post pictures of themselves doing volunteer work, studying, or enriching the world beyond aesthetics. So what message are they sending out? Social media are ubiquitous and influential, and our children are listening and watching.
Some might suggest removing social media would remove the influence. But look around—these messages are everywhere. Television cannot be watched without some overtly sexual reference, magazines advertisements show models wearing very little clothing, and friendships are often measured in virtual "likes." It is extremely difficult, if not impossible, to cut out all forms of social media and entertainment that may further the belief that looks are of higher value than, say, intelligence or personality.
The answer, then, may be to give our children the tools to navigate this culture, instead of attempting to shield them entirely from its influence. If you find yourself unsure how to begin, consider these suggestions:
1. Avoid focusing on looks. 
Tell them they are beautiful AND brilliant. When they leave for school, for example, compliment their outfit or hairstyle, but emphasize their talent, intelligence, and ability.
Teach by example. If you frequently express discontent with your own looks, realize they may be somewhat influenced by your comments. Instead, cultivate an environment of body positivity and acceptance and help them learn to love the body they have. This may include teaching them learn everyone's body is different, discussing the difference between cheap and expensive self-worth, and helping them learn how everyone can be beautiful, inside and out.
Ask what they like about themselves. Their answers may surprise you. They may like their hair but hate their body. They may like their body but hate their face. Whatever the case, asking provides the opportunity to talk about body image in a helpful way. If they do express discontent with some aspect of themselves, you are likely to be the best person to help them find healthy and positive methods of addressing this discontent while reinforcing values.
Try these compliments:
Your smile could light up a room.
You are kind, generous, and loving.
Your positivity is infectious.
2. Emphasize values.
Determine family values. If you value education, remind them an education will never fade and will never go out of style. Spend time together talking or doing enjoyable activities to reinforce these values and balance the influence of social media and pop culture. You might, for example, volunteer as a family and discuss why volunteer work is important and how it positively impacts your community and family.
Make sure role models are helping to enhance positive self-image, not hurting it. Trusted adult relatives and family friends can have a significant influence, and a chance comment may leave an impact.
Ask questions that show your interest in their developing minds and ideas. "If you had a million dollars, what would you do with it?" "What charities would you like to support?"
Try these compliments:
I can tell you worked very hard.
That was a really intelligent argument.
That was a kind thing to do.
3. Support friendships and hobbies. 
Teach the importance of cultivating passions and hobbies that can be used as self-care during challenging times. Help them understand the value of self-care and encourage them to make it a regular practice. Try activities you can do together and discuss—read a book and compare notes, take a fitness class, or go on a hike or nature walk.
Encourage teenagers who are fond of "selfies" to use their phone cameras to take pictures of the world as they see it.
Talk about ways to develop and cultivate lasting friendships that do not depend on beauty or looks.
Try these compliments:
I really admire the choice you just made.
That was a mature decision.
I can tell your friends really look up to you.
It can be difficult to keep up with the many influences in your teenager's life, but this work is necessary to create a new culture of balanced, healthy adults who love themselves for reasons beyond their looks—no matter who is watching.

The preceding article was solely written by the author named above. Any views and opinions expressed are not necessarily shared by GoodTherapy.org. Questions or concerns about the preceding article can be directed to the author or posted as a comment below.