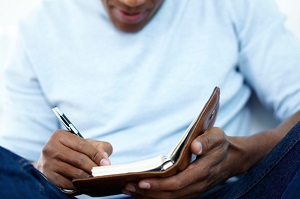 Did you know that keeping a journal is one of the most effective ways to expressively heal psychological wounds and gain personal insight? Journaling can be used alone or in conjunction with psychotherapy. It is considered an Expressive Arts Therapy modality that requires no art experience. You already have what you need to get started right away. No special writing skills are required, and the materials are simple: pen and paper (or a computer, if you prefer), and a dedicated time and space for writing practice.
Some benefits of regular journaling include:
Unwinding and recapping: Journaling is a soothing way to unwind at the end of the day, vent privately about things that vex you, and pen your worries onto paper. It is also helpful to recap the events of your day, scribe gratitudes, and highlight events.
Setting intentions or downloading clutter: You might choose to journal first thing every morning as a way to set the framework for the coming day or unload the brain's chatter — as in the Artist's Way's ritual of "morning pages." Beginning your day with writing jump-starts your day like a morning cup of coffee.
Gaining personal insight: By documenting your experiences over time, you may notice patterns that warrant change, reorganization, and omission. After several weeks of writing, take a look at past entries and see if you notice any patterns: negativity, repeating issues, inklings of repressed yearnings. You might even find that you are stronger and more confident as you reread, and that your writing becomes a dear friend and sounding board for you.
Observing and detaching: While not intentionally, journaling supports reflecting, noticing, and observing. It can support you to either externalize and detach from your thinking brain and emotional center, or deepen and draw you closer to it. One of the main benefits is in supporting a bird's eye view of what is going on in your life.
Creating Your Journal
There is no right or wrong way to create a journal. You can buy them or make your own. Your journal might be in a spiral notebook, a lined legal pad, or a blank artist's sketchbook. You might use your desktop software like Microsoft Word for each entry, or try your hand at online journaling software like My Journal 2.0. If you want something that keeps multiple journals — like your daily journal and your diet and exercise journal — without all the bells and whistles, then the text-only version software, All My Journals, is the choice for you. If you want a cloud version that boasts military-grade encryption and is iPhone friendly, try Penzu. Explore several options to find the fit that is right for you.
Whether your journal is digital or handwritten, you get to decide what format it will have. You might write in normal paragraphs, or you could choose to write in a poetry format, in lists, or in brain mapping diagrams. Your journal could include pictures as well as words, similar to scrapbooking. You might want to draw or doodle in your journal, glue images, add stickers, use rubber stamps, or paint amazing collages. If you choose the digital route, you can scrounge the Internet and copy and paste images for visual impact. If you really want to get creative, you can use Photoshop to alter, blur, merge, and do all sorts of creative things with your images. Or, again, you can just use a pen and paper and simply scribe.
Prompting
There are lots of ways to get started on a journal entry. You might want to get a book of journal prompts (or simply do an Internet search for that term) and respond to one prompt each day. I recommend "The Way of the Journal: A Journal Therapy Workbook for Healing," by Kathleen Adams, as a go-to source. Or you could try free writing, in which you simply begin writing any words at all and keep your pen moving (as in automatic writing) without stopping for about 10 minutes.
If you don't know what to write, start with the words, "I don't know what to write today because…" If you don't have a lot of time, then try five-minute sprints and write about anything on your mind. Another idea is to write about specific events in your life, highlights of your day, or conversations that impacted you. Other ideas are to pick a subject, do a check-in with yourself, capture a moment in time, or reflect on something upsetting to you. There are many more ideas, but these will get you up and running.
Weekly Review
One of my favorite ideas is the weekly recap on a Sunday evening. This can really help you to document or highlight the week's events, give additional attention to a special moment, track your goals, and prep you for the upcoming week. One of the best surprises is the meaning you have captured or insight you have gained. It can also bring a meditative closure to the week — kind of like an appreciative remembering and farewell.
Above all, journaling is a process. It's not about what you write or how your journal looks. It's an opportunity to gain insight, reflect, and find meaning in sparse moments of your day. Most of us have 10-or-so minutes to capture our lives. Isn't yours worth it?
Take the time to explore your thoughts and emotions on paper. With a journal, you can be the witness to your own unfolding story.

The preceding article was solely written by the author named above. Any views and opinions expressed are not necessarily shared by GoodTherapy.org. Questions or concerns about the preceding article can be directed to the author or posted as a comment below.