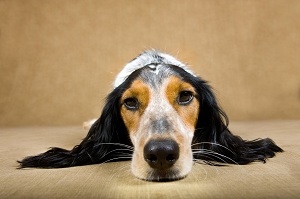 For as long as I could remember, they were my siblings. Faithful. Loving. Supportive. With me when I played, laughed, and cried, they were beside me all of the time. Showing me unconditional love and compassion, the dogs I cherished were a part of my family, just as I was a part of theirs. I even tried to blame them for things at times. "But, it wasn't me, Mum, it was the dog." Of course, that never worked. It still doesn't.
Now, I am sure that a pet being a "family member" is not an unusual concept for many of you who would read this. In fact, I would imagine that, right now, you could even bring up an image of your first pet, and sense some kind of emotional, physical, or spiritual reaction. And, perhaps like me, you have known the powerful connection between your pet, and the love that they give you in return.
Perhaps you're wondering why I would chose to write about the power of the relationship between dogs and me, or your animals and you. But, I did so, not only because I love my "fur-kids," but also because many of my clients have pets and consider them to be some of their best supports, their family. And let's face it, for many, it may be all the family they have.
Maybe they were there when you learned to love, or had to bear the pain of losing it. Perhaps they sat by you as you experienced joy, happiness, and peace. But, no matter what your encounters with your animals, you know that, already, this article connects to your understanding of their love for you.

The Cat and Sobriety
While watching a TV show recently, I was awe-struck by one man's insistence that his cat, his beloved animal, was the one relationship in his life that enabled him to maintain his sobriety, to work his recovery. He spoke of days when he would find himself in the depths of despair, suicidal, and tormented, only to see his cat on the other side of the bathroom door, waiting for him to sober up. Non-judgmental. Present. Strong. Persistent. The depths of his cat's green eyes pleaded for him to understand, "You have to stay. You have to survive. Live, now."
Now, maybe on face value, it may seem far-fetched, but I was reminded of the power of a true loving relationship, itself, to help us surpass and survive what we may be struggling with, no matter the form that relationship takes. Often in the moments when we interact with our pets they, too, can be the very relationships we hold on to and reach for, in times of distress. And while there are many who struggle to understand that depth of relationship with an animal, many do experience it as such.
It's Not About The Dog
But you see, the relationship is never really just about the dog. It's not about the cat. It's not about the horse, or whatever animal has captured a part of your soul. As always, it is still about you. It is still about expressing a part of yourself into the world. And, that creature, that divine light in animal form, enables you another opportunity to express that part of you, in relationship to it. For, how you treat that animal and how you interact with it, is how you approach people and situations in your world. Watch your pet's reactions to what you are saying or doing, perhaps it "matches" the experiences and feedback you get from people in your world.
I say this because I truly believe that whatever you are experiencing with your animals, whatever loving feelings, and, even at times, struggles, you may be experiencing, are showing up for your growth. There is something in that relationship that asks you to look at yourself, and your interactions with the world around you. Your pet is reflecting that aspect of yourself, back to you. In fact, that is one of the quintessential aspects of animal assisted therapy, to help you explore that reflection.
Maybe your beloved pet is asking to participate more in life than you have, or are currently choosing to. You may be like many of my clients who "have to get up" because a loved dog needs a walk. You may be like the man who knows that his cat didn't judge his alcoholism, and needed him to be sober. You may know that you have to get out of bed, because, let's face it, your pet needs to be fed. It needs you to face your depression, face your anxiety, and get sober to enjoy its company. But, again, the irony is that it is not about our pets, it is about us. It is about stepping outside of our narrow view of ourselves, and seeing them wanting us to show up and participate in life. Period.
I, for example, having recently rescued a puppy, have been challenged to face that part of me that wanted a dog with less stress, less anxiety, and less fear. When he first entered my life I had the, albeit unrealistic, expectation that training him would be as easy as it had been for me in previous relationships with puppies. Besides, as the daughter of a dog-trainer, my ego tricked me into believing that I would be able to handle this new puppy situation. I had it covered.
Of course, I was wrong. I have, by no means, got it covered; in fact, I'm still learning, and he's training me. But what I have learned is that it was meant for me to have the struggle. This puppy isn't supposed to be easy. He is here to help me examine my ego's misleading notions. And, without him, I probably would not have been able to do this. For you, maybe there is an opportunity to explore if you are relating to your loved animal as you relate to your world, or even your recovery. And in the mean time, I'll have to let you know how successful my puppy is at training me.

The preceding article was solely written by the author named above. Any views and opinions expressed are not necessarily shared by GoodTherapy.org. Questions or concerns about the preceding article can be directed to the author or posted as a comment below.