Many years ago, I watched Dr. Nicholas Perricone speak on PBS about inflammation, and it changed how I looked at everything. This is what I remember: He hypothesized that inflammation was the cause of aging, skin problems, heart disease, cancer, and pretty much any illness. He also believed that the right foods and supplements lower inflammation, while the wrong foods (along with other sources, such as pollution, pesticides, medications, etc.) cause inflammation. At the time, this was a radical idea not embraced by the mainstream medical world. Perricone, a dermatologist, still believes inflammation is fundamental to illness and nutrition is essential to causing and reducing it.
More recently, the idea that inflammation is the root of illness has become more accepted. But what about depression? Is depression a result of inflammation? Opinions and even studies are beginning to address this possibility. It appears as if inflammation could indeed cause depression, though most likely it is only one of the causes. Nevertheless, many of the ways we know to reduce inflammation also are recommended for people suffering from depression. I don't believe this is a coincidence.
According to Christine Kearney at Medical News Today, studies suggest that individuals with depression who have high inflammation are not as likely to benefit from common treatment, such as antidepressant drugs and psychotherapy, which tend to help other depressed people.
One study described by Dr. Charles L. Raison in the Archives of General Psychiatry tested an anti-inflammatory medication, infliximab, on people with depression and found that in those who had high inflammation, the medication made a significant impact on their depression. Says Dr. Andrew Weil: "Cytokines are the principal chemical mediators of the inflammatory response. Anything you can do to keep them within their proper bounds will reduce your risks of chronic disease and also, it now appears, protect you from depression."
According to an article in the Journal of Neurological and Neurosurgical Psychiatry, "Inflammation may therefore play a role in the etiology of depression, at least in a 'cohort' of vulnerable individuals. Inflammation may not only act as a precipitating factor that pushes a person into depression but also a perpetuating factor that may pose an obstacle to recovery."
In a paper published in the September online edition of Neuroscience and Biobehavioral Reviews, Dr. Athina Markou, professor of psychiatry, and Karen Wager-Smith, a post-doctoral researcher, write: "Just as the body's repair mechanisms for physical injury can sometimes result in chronic pain and inflammation, so too can the response to psychological trauma, resulting in chronic depression."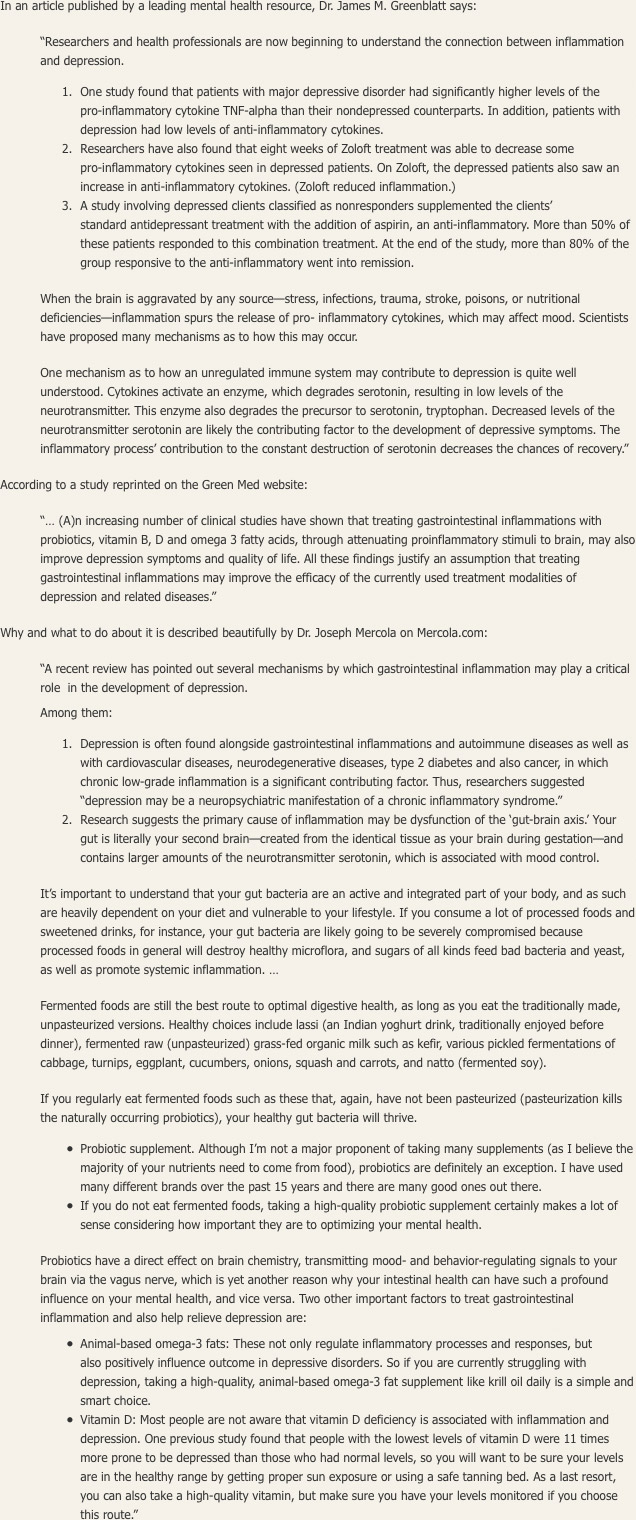 What is the bottom line, then, if you are depressed? Probably what you already knew—depression can sometimes be relieved and prevented through good nutrition, including a lot of fish oil, probiotics, vitamin D, green, leafy vegetables, significant protein, and fermented foods, along with exercise and stress-reducing activities such as meditation, yoga, therapy, or anything else that does it for you. But now we know more about why.
© Copyright 2012 GoodTherapy.org. All rights reserved. Permission to publish granted by Cynthia W. Lubow, MS, MFT
The preceding article was solely written by the author named above. Any views and opinions expressed are not necessarily shared by GoodTherapy.org. Questions or concerns about the preceding article can be directed to the author or posted as a comment below.