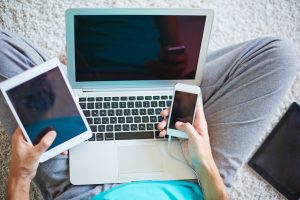 New research suggests internet addiction might be an early warning sign for additional mental health conditions. Participants in the study who demonstrated an addiction to the internet had higher rates of both depression and anxiety.
A University of Hong Kong study in 2014 estimated as many as 420 million people worldwide experience some level of internet addiction, amounting to about 8% of the approximately 5.2 billion people who are able to access the internet.
Studying Internet Addiction in College Students
Researchers from McMaster University in Ontario compared internet usage among 254 freshmen students. They used the 1998 Internet Addiction Test along with new models that reflected recent changes in technology. This helped incorporate data from online activities such as video streaming, instant messaging, and social media more accurately.
Of the 254 students examined, 33 (13%) met the criteria set for an online addiction, with nearly half the remaining 221 identified as having problematic use rates.
addiction
were shown to have difficulties in areas such as attentiveness, time management, impulse control, and
stress
levels, especially when using social networking sites or streaming video. They also displayed significantly higher rates of depression and anxiety symptoms.
Internet Addiction Research May Be Lacking
The study's authors say internet addiction in general may be understudied and underestimated. Without further research, they are not sure whether the association found between excessive internet use and mental health conditions is causal. A larger study is needed to determine if internet addiction causes mental health issues or if internet addiction is a result of mental health issues. Any of these concerns may be simpler to treat once researchers better understand any underlying causes.
References:
Cheng, C., & Li, A. Y. (2014, December 9). Internet addiction prevalence and quality of (real) life: A meta-analysis of 31 nations across seven world regions. Cyberpsychology, Behavior, and Social Networking, 17(12), 755-760. doi:10.1089/cyber.2014.0317
Dallas, M. (2016, September 18). Internet addiction may be red flag for other mental health issues: Study. Retrieved from http://health.usnews.com/health-care/articles/2016-09-18/internet-addiction-may-be-red-flag-for-other-mental-health-issues-study
Kosoff, M. (2014, December 20). Study: 420 million people around the world are addicted to the internet. Retrieved from http://www.businessinsider.com/420-million-people-are-addicted-to-the-internet-study-2014-12
McMaster University. (2016, September 19). Internet addiction may signal other mental health problems. Retrieved from http://fhs.mcmaster.ca/main/news/news_2016/Internet_addiction_mental_health.html
© Copyright 2016 GoodTherapy.org. All rights reserved.
The preceding article was solely written by the author named above. Any views and opinions expressed are not necessarily shared by GoodTherapy.org. Questions or concerns about the preceding article can be directed to the author or posted as a comment below.