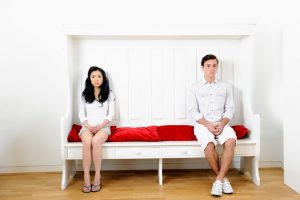 Are you worried your partner might be having an affair? Do you tend to check up on whom your partner has been befriending and/or communicating with on social media? You may or may not have reason to be concerned, but in a 2016 study, 57% of men and 54% of women interviewed admitted to having been unfaithful in at least one of their relationships.
While infidelity appears to be on the rise, modern technology has made it easier to monitor a partner's whereabouts and actions. Even in faithful relationships, this type of surveillance—which, taken to its extreme, might be considered stalking—can take its toll and create an atmosphere of mistrust, leading to arguments and ongoing conflict.
Some of the signs that may indicate your relationship is in trouble include:
A lack of communication. When we stop communicating with our partners, we are no longer able to connect with them emotionally, which can sometimes lead to seeking outside emotional support or having an affair.
Not spending enough time together. Connection with partners needs to be nurtured and cultivated in order for it to flourish and become stronger. In the absence of quality time together as a couple, this bond may start to weaken and partners may begin to grow apart. This is especially true after children arrive on the scene, as partners may start to view one another as parental figures rather than as the sexually desirable partners they were originally drawn to.
Changes in your partner's behavior. If your partner seems more distant than usual and/or their behavior has recently changed (for example, they're going out more often with friends, their sexual desire has decreased, etc.), this may be a sign they are seeking intimacy elsewhere.
Catching your partner in a lie and/or cheating. If you discover your partner has been lying to you and/or has been unfaithful, there may be serious issues that need to be dealt with if you want to try to repair the damage.
Whether there has been infidelity or you believe your relationship is at risk, considering the following questions can be helpful:
Rebuilding a relationship after an affair is no easy task, but it's very possible if both partners still love one another and are willing to put in the work.
Are you and your partner both committed to making your relationship work? If so, seeking individual therapy and/or couples counseling may be beneficial for figuring out how to get back on track and work on healing any wounding that may have occurred. If both partners are unwilling to do the individual work necessary to repair the relationship, be aware of the potential for further betrayal.
Are you able to accept responsibility for the ways in which you may have contributed to the problem? Even though only one partner may have strayed, both have likely contributed in some way to the breakdown of the relationship. This may be due to a lack of communication, a buildup of resentment, being overly jealous, feeling taken for granted, or not spending enough quality time together. In order to get back on track, both partners may need to make changes in the way they interact with each other.
Are you able to forgive any transgressions that may have occurred and move on? If you decide to rebuild your relationship after infidelity, you must be willing to leave the past behind and not bring up these issues every time you have an argument. Reestablishing trust after having been betrayed may take considerable time and effort, but forgiveness of your partner is also critical if you want to be able to move on together.
Any relationship can be challenging at times, especially when those closest to us have hurt us in some way. We all want our partners to be loving, kind, and trustworthy, and we may become upset when we feel they have betrayed us. Rebuilding a relationship after an affair is no easy task, but it's very possible if both partners still love one another and are willing to put in the work.
For help with infidelity and other trust issues in your relationship, contact a therapist in your area.
Reference:
Infidelity Statistics. (2016). Retrieved from http://www.statisticbrain.com/infidelity-statistics/
© Copyright 2017 GoodTherapy.org. All rights reserved. Permission to publish granted by Wendy Salazar, MFT, GoodTherapy.org Topic Expert
The preceding article was solely written by the author named above. Any views and opinions expressed are not necessarily shared by GoodTherapy.org. Questions or concerns about the preceding article can be directed to the author or posted as a comment below.