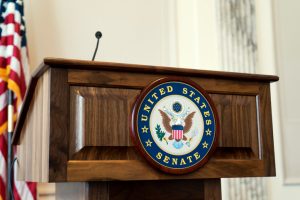 United States Senate Majority Leader Mitch McConnell announced this week that the Senate will delay a vote on the Republican-led bill to overhaul the Affordable Care Act until after the July 4 recess.
The bill has been the subject of intense criticism, including by some Republicans. Now, a report from the nonpartisan Congressional Budget Office (CBO) reveals how the bill might affect care. The CBO says 22 million people will lose coverage over the next 10 years. By 2020, the CBO says few low-income people would be able to purchase any plan. Out-of-pocket costs would likely rise for most people. People in states with more lax consumer protection laws, however, might see lower premiums due to fewer benefits.
The Affordable Care Act expanded access to mental health coverage and mandated mental health parity in coverage decisions. Analysts warn that Medicaid cuts could eliminate care for many people in need of mental health services, including addiction treatment. Mental health care could become more expensive for millions of Americans.
Suicide
rates are rising in the Alabama prison system. One prisoner who testified at a trial lawsuit died by suicide less than a month after his testimony. In his order, Judge Myron Thompson demanded significant reforms under the direction of the SPLC.
New research suggests magnesium, a low-cost supplement, could alleviate symptoms of depression. This makes it an affordable alternative to other more expensive forms of mental health treatment or medication. Magnesium produced clinically significant improvements in 112 of 126 adults seeking outpatient care for depression symptoms.
A gene for Alzheimer's does not make the disease inevitable, but does dramatically increase the risk. The gene, known as APOE4, is also linked to other cognitive issues. New research suggests adults who carry this gene may struggle to adapt to cognitive demands as they age.
When financial considerations place depression treatment out of reach, self-care strategies such as exercise, mindfulness, and dietary changes may help. For people with more severe symptoms, prescription assistance programs and sliding-scale psychotherapy clinics can help reduce the costs of treatment.
Misleading, inflated claims can undermine public trust in science. Science critics may claim hyperbolic headlines are "fake news." Statistician David Spiegelhalter says the pressure to publish at all costs, even if the results are marginal or the data don't support exciting claims, contributes to a tendency to exaggerate the value and significance of study findings.
Dogs can develop compulsive behavior similar to obsessive-compulsive (OCD) behavior in humans. Dogs showing signs of OCD might compulsively chase things or engage in self-harm, such as excessive licking or chasing their tails. Some veterinarians already use human drugs to treat these symptoms, and preliminary research supports the practice.
© Copyright 2017 GoodTherapy.org. All rights reserved.
The preceding article was solely written by the author named above. Any views and opinions expressed are not necessarily shared by GoodTherapy.org. Questions or concerns about the preceding article can be directed to the author or posted as a comment below.