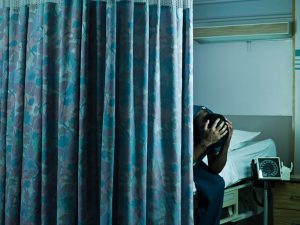 A new study found state medical boards may treat doctors with mental health conditions differently than those with physical health conditions. The study, published in the journal Society of Teachers of Family Medicine, suggests intrusive questions about mental health conditions may deter doctors from seeking treatment.
Previous research has found the high demands doctors experience can trigger higher rates of mental health conditions than in the general population. One study found 29% of new doctors have symptoms of depression. Another study found 11% of medical students experience thoughts of suicide.
Do Medical Boards Discriminate Against Doctors with Mental Health Conditions?
The study found state medical boards, which license physicians and assess their ability to remain physicians, were more likely to inquire about physicians' history of mental health treatment than physical health treatment. Researchers found the questions were broad and intrusive, rather than focusing on whether a physician was capable of providing quality care.
In states where boards asked about both mental and physical health, physical health questions were vague. Boards typically wanted much more specific information about mental health conditions.
fear
of being reported to state medical boards or
stigma
kept them from seeking treatment. Most felt their mental health concerns had not affected their ability to provide quality care and treatment.
At minimum, Gold suggests board questions about mental health should comply with the Americans with Disabilities Act (ADA). The ADA is a federal law prohibiting discrimination on the basis of mental or physical health. Rather than drawing conclusions based solely on treatment history, Gold says, boards should only ask about potential impairments of current conditions. This prevents physicians from being penalized for sharing a past diagnosis for which they have already sought treatment.
New Resolutions to Support Physician Mental Health
Two new resolutions presented to the American Medical Association (AMA) aim to address physician mental health. The first resolution asks state licensing boards to treat mental health conditions like physical health conditions. The second encourages the study of medical students' mental health, including gathering data on rates of depression and other mental health conditions.
References:
Firth, S. (2017, June 12). AMA told mental health DX still a stigma for docs. Retrieved from https://www.medpagetoday.com/meetingcoverage/ama/65949
State medical licensing boards' practices may hurt physician mental health. (2017, June 14). Retrieved from https://www.eurekalert.org/pub_releases/2017-06/mmu-sml061417.php
© Copyright 2017 GoodTherapy.org. All rights reserved.
The preceding article was solely written by the author named above. Any views and opinions expressed are not necessarily shared by GoodTherapy.org. Questions or concerns about the preceding article can be directed to the author or posted as a comment below.