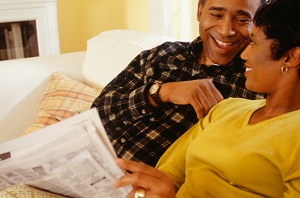 Cooperative dialogue skills? Let's unpack those words.
Cooperative means the tone of the conversation stays positive. Smoothly sharing information back and forth is like playing a game of catch: both partners have the skills to "throw" and "catch" without dropping any information. "Cooperative" also means that partners are interacting as friends. They feel and act like they are on the same team, not playing against each other.
Dialogue is information-sharing where partners taking turns talking and listening. In effective dialogue, no one gives monologues. Partners alternate talking and listening, with each of them building on what the other has just said. Their air time is symmetrical, and each speaking time is short.
When effective dialogue partners are on the listening end, they seek to understand and absorb what they are hearing. You can tell by their frequent use of words like "yes" and "and" that they are registering their partner's views into a shared information pool.
By contrast, ineffective dialogue partners push away what they hear. They listen for "what's wrong" with what their partner says. They indicate their rejection of what they are hearing by their frequent use of the word "but." "But" indicates that information is being removed or deleted, rather than utilized to build shared understandings.
With strong cooperative dialogue skills, couples sustain their love whatever challenges arise on their shared life paths.
© Copyright 2010 by Susan Heitler, PhD. All Rights Reserved. Permission to publish granted to GoodTherapy.org.
The preceding article was solely written by the author named above. Any views and opinions expressed are not necessarily shared by GoodTherapy.org. Questions or concerns about the preceding article can be directed to the author or posted as a comment below.