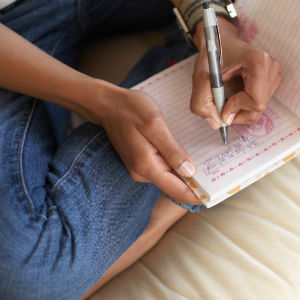 "In the diary you find proof that in situations which today would seem unbearable, you lived, looked around and wrote down observations, that this right hand moved then as it does today, when we may be wiser because we are able to look back upon our former condition, and for that very reason have got to admit the courage of our earlier striving in which we persisted even in sheer ignorance." –Franz Kafka
Several years ago I co-led a support group for men living with HIV. Many of the people in the group were coping with depression, chronic pain, and the side effects of daily HIV medication. A few of the group members were also dealing with a secondary medical issue in addition to HIV: hepatitis C, lymphoma, or the residual effects of a massive stroke.
At one point I suggested to the group that they consider the use of journaling as a way to manage feelings, cope with the stressors of mental health issues and physical illness, and keep a physical record of the ups and downs of daily life. The group looked at me like I was an alien. After a couple of beats of silence, one of the group members finally asked, "You mean, keep a diary … like a teenage girl?" The group dissolved into laughter.
It look a while to convince the group that journaling was not just the domain of an angsty teenager holed up in her bedroom obsessing about the boy who sits in front of her in science class … although it could be that, as the 25-year-old journals sitting in a box in my bedroom closet can attest. Journaling is also a tool that can open us to a powerful portal for reflection, growth, and healing. It can be especially helpful to those going through the experience of cancer.
Research has shown that journaling can have many benefits for people who are newly diagnosed, in treatment, or who have completed treatment for cancer. In a study conducted at Georgetown University, participants in an expressive writing program reported a significant impact from time spent journaling about their cancer. In fact, more than half of the participants in the study reported changes in how they thought about their condition after spending just 20 minutes writing about their cancer experience.
Writing can be an amazingly therapeutic instrument. It's a simple way to document your life challenges and experiences. It also allows you to express and process feelings that you might otherwise push down and bury deep. It may seem overly simplistic, but there is tremendous power in the act of putting your emotions on paper. It's validating in an unexpected way, and it eases the burden of trying to manage your feelings all on your own.
I've been journaling since childhood and have always marveled at the way it has helped me work through a problem, a feeling, a fear. After my own cancer diagnosis, I often took to my journal as a way to expel the darkness and anxiety I was carrying inside about my prognosis. Sometimes I felt it was the only place I could go and really express those distressing emotions; I didn't want to burden my worried husband, friends, or family. My journal was the place I allowed myself to not hold up a brave face. All my thoughts about the possibility of my own death, my disappointment and anger at my own body, my grief over the loss of my identity as a "healthy person," all went onto the page.
Many people report that even during times when they couldn't seem to get "unstuck" from a feeling or problem by writing about it, the act of simply externalizing it and dumping it off in the journal was helpful. It can also be beneficial to look back at your process and progress along this cancer experience—to see the strides you've made in regaining some of your physical strength and in reclaiming your sense of purpose through looking at those old journals. It can give you a sense of pride to see where you started out at diagnosis and where you've come to post-treatment. Life is always a work in progress, but being able to examine your growth through a difficult time in your life is empowering.
If you've never tried journaling before, all of this talk of the benefits might sound very esoteric to you. I encourage you to give it a shot and see what your own experience is like. While there are no hard and fast rules about how to journal, there are some tips I can share with you that may be helpful:
Consider investing in an attractive, hardbound journal. Not everyone likes writing by hand, especially if you've spent most of your adult life writing with the assistance of a computer. However, there is something special about the physical process of handwriting that, to me, is a helpful part of the journaling experience. It gives you additional time to contemplate and examine emotions that you don't have time to look at while quickly tapping away on a keyboard.
Allow your journal to be a no-judgment zone, and don't censor yourself. This may be the main difference between the experience of journaling and keeping an online blog. Your journal should be the receptacle for all of your most private and innermost thoughts. If you feel comfortable sharing those thoughts with the world, by all means do so. But you might consider using your journal as the place to develop ideas for your blog, picking and choosing what you want to share with the world and what stays with just you.
Set aside time daily for your journaling practice. If not daily, at least a few times a week. Just like any relationship, your relationship with your writing will develop with frequency, time, and commitment.
Create a journal that feels authentic to who you are. If you're a creative person who loves art, incorporate drawings or doodles that give expression to what you are feeling. You might find it helpful to chronicle noteworthy experiences in your day or keep lists of short- and long-term goals. Many people going through tough times report that keeping a gratitude journal is helpful in keeping them in touch with and appreciative of the good things in their life. Find whatever works for you. There are no rights or wrongs when it comes to journaling. Begin today … there is no better time than now to get started.
Reference:
Moran, N., Graves, K., Poggi, E. and Cheson, B. (2008) Implementing an expressive writing study in a cancer clinic. The Oncologist, Feb 2008 vol 13 no 2 196-204.

The preceding article was solely written by the author named above. Any views and opinions expressed are not necessarily shared by GoodTherapy.org. Questions or concerns about the preceding article can be directed to the author or posted as a comment below.