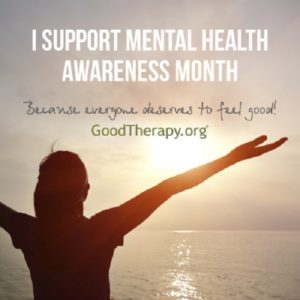 Mental Health Awareness Month has taken place yearly during the month of May since 1949. This year's theme from Mental Health America focuses on the connection between mental and physical health: Fitness #4Mind4Body. For our best health, says Mental Health America, we must "see the whole person, and make use of the tools and resources that benefit minds and bodies together." It is important to be aware of the link between our physical and mental health. To join the conversation this month, use the hashtags #4Mind4Body and #MHAM2018 on social media.
GoodTherapy.org strives to normalize issues surrounding mental health and seeking help. Everyone has a body and a mind to take care of. Discussion can help us realize we're not alone with a mental health issue. There is also no reason to feel ashamed when talking about mental health. It may be easier to educate others about mental health when stigma does not hold people back from sharing.
Healthy habits are not the only way to improve mental health, but there are many ways physical health can support the mind. A few examples of healthy habits that can boost mental health include:
Sleep: Sleep recharges the mind and body. Lack of sleep can raise cortisol (the stress hormone) levels and heighten a person's fight or flight response. Sleep allows new neural pathways to form and may contribute to resilience.
Nutrition: Food is not only fuel. It also impacts which hormones the body produces. Eating certain foods helps boost serotonin levels, which can improve mood.
Exercise: Studies show regular exercise can help relieve stress and improve mood. It has also been shown to reduce anxiety and depression.
Nurturing the body through self-care can provide more energy for other activities that boost mental health. For instance, getting enough sleep may increase energy levels. With higher energy, a person may be more likely to practice a hobby or meet up with a friend.
Nurturing the body through self-care can provide more energy for other activities that boost mental health.
Mental health issues can also impact the body. Stress, depression, and anxiety may cause fatigue, insomnia, and body pain. If you think you have physical symptoms due to mental health, it could be time to talk with a therapist. Therapy can help you increase your mental well-being. Addressing your mental health can prevent you from entering a vicious cycle. It can keep physical and mental health issues from feeding into each other.
Therapy is one aspect of mental health that is often stigmatized. People may not share that they go to therapy because they are afraid of what others will think. However, the benefits of therapy extend to most people, as no life is perfect. If you would like to start connecting with a therapist in your area, you can begin searching here. Therapy can help support your mental health. It can help you heal from past hurts and gain a deeper understanding of yourself.
Share Your Story
Do you have a story about your mental health journey? We would love to hear it! Please submit your story here for a chance to have it published for others to read on The Good Therapy Blog.
More Articles on Mind-Body Health
Reference:
Sharma, A., Madaan, V., & Petty, F. D. (2006). Exercise for mental health. The Primary Care Companion to the Journal of Clinical Psychiatry, 8(2), 106. Retrieved from https://www.ncbi.nlm.nih.gov/pmc/articles/PMC1470658
© Copyright 2018 GoodTherapy.org. All rights reserved. Permission to publish granted by A GoodTherapy.org Announcement