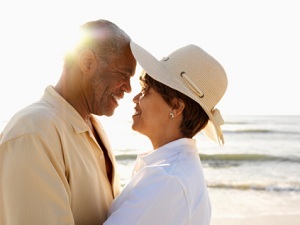 As a relationship therapist of over 20 years, there is one mistake I've seen clients make over and over. It's not something they do, but something that they forget to do—and without it, an otherwise non-threatening conversation can turn into one that is fraught with misunderstanding and dissatisfaction.
The thing you should do?  Look your partner in the face.
While the importance of making this connection with your partner is intuitive, it is not always obvious or easy to remember. But science has shown the powerful and crucial role it plays in understanding our partner, getting our needs met, and making our romantic relationships more solid and stable.
Here is what science tells us: our brains are wired to connect with others. From birth, we gaze at our parents or caregivers and they look back at us. During this developmental stage, our brains develop the wiring that stays with us as long as we live. Through good parenting, we learn comfort by looking at another person's face and develop empathy for others by watching their facial expressions.
None of these relationship-building feelings or attitudes can take place if you are not facing your partner. You don't have to stare them down, but do look into their eyes or face. If your partner can see your face, they will be more attuned to requests for comfort or a need for attention. Not only will you be able to understand your partner better, but your partner will be able to understand you better. That comes from our brain wiring and structure. We are designed that way. We long for this secure attachment.
Hunger for connection with other human beings is built into us just as surely as hunger for food. Evolutionarily speaking, those individuals who were more apt to want to be with other humans probably survived better than the loners. The feeling of wanting to belong and to feel safe with other people helped early humans protect each other, share resources, and create the all-important bond needed to raise children. The early humans looked each other in the face so they could understand emotions and intentions: was this the face of an enemy, or an ally who could be trusted? We, too, look into a person's face for the information we need to be able to establish if we can trust them.
Neuroscience studies mirror neurons, the brain cells that help us feel attuned or synchronized with another person—especially when looking at each other. The next time you are having a really good conversation with a friend or partner, notice that your body positions may copy each other. If you put your hand under your chin, the other person may unconsciously do the same. Additionally, if you position your body into the same arrangement as the other person, they will likely feel closer to you.
If you and your partner can look into each others' faces, you can let the other person know that you are present. Being present for your mate can be calming and rewarding for both of you.
On the other hand, not being able to accomplish this connecting exercise may suggest that you and your partner need professional counseling. Having a secure attachment, feeling safe exposing yourself, and being vulnerable is not always easy, especially in a romantic relationship. If you do not feel emotionally safe enough to be vulnerable with your partner, this can be a strong indicator that you need to seek a professional for relationship help. If you would like assistance with communication and trust in your relationship, talk to your doctor, minister, or a friend to refer you to a professional who can help.
© Copyright 2011 by By Pamela Lipe, MS. All Rights Reserved. Permission to publish granted to GoodTherapy.org.
The preceding article was solely written by the author named above. Any views and opinions expressed are not necessarily shared by GoodTherapy.org. Questions or concerns about the preceding article can be directed to the author or posted as a comment below.