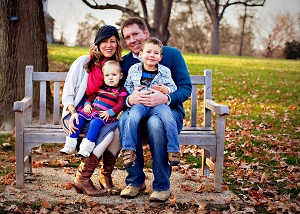 I was diagnosed with Type I Bipolar in the spring of 2006, several months after suffering two separate manic episodes almost exactly two weeks apart. Each had landed me in a psychiatric ward, and both times I was terrified of what was happening to me. My mind had unraveled, and despite my desperate desire to return to sanity, the initial days of my hospitalizations were the same: fighting the nurses as they tried to give me antipsychotics.
Things have changed drastically since those first instances of my illness occurred, and these days I take a proactive, enthusiastic approach to keeping my mental health in check. Here are the five methods I use to stay on top of my symptoms so that I remain healthy and balanced, both in body and mind.
Speaking up: It seems like it was so long ago, but it was only last month that I started writing openly about the fact that I'm living with bipolar disorder on my blog. This simple act of deciding to come out from behind my anonymity changed so much for me. I suddenly felt more empowered, like I was physically stomping out the stigma associated with my illness. I have no regrets about my decision to be brave and speak out as a mental health advocate and I am proud to be a part of the movement which in time will erase stigma against people living with mental health issues.
Scheduling out: Having things on my calendar to look forward to is very important to me. I love anticipating trips with friends and family, birthday parties, charitable events, and even simple things like picnics at the playground with my kids when the weather is nice. I make sure to always have at least two things each week that I am looking forward to doing, so that I can get excited about something that is coming up in the near future. Using my calendar effectively also helps me to prioritize my work and exercise, so that those things don't get neglected in between all the other commitments I'm planning.
Focusing on the positives: If I were to dwell on all the negative things that have happened as a result of my diagnosis, I'd still be consumed by the deep depression I battled in 2006. Instead, today I choose to highlight the positive outcomes that have resulted from learning to live with my illness. I have become a more compassionate person. I've revealed my identity and am telling my story in an effort to inspire others who may still be questioning whether things will ever get better. I'm realizing how happy I am when I'm writing, something I always knew was a huge part of my life; I just never allowed myself to say that writing is my vocation. Today I call myself a writer. And I'm more content now than I've ever been in my entire life.
Staying committed to my treatment plan: I see my psychiatrist once every two months, or more if I need to. Mainly my time with her is spent checking on my meds, making sure everything is working the way it should. Because my psychiatrist doesn't do psychotherapy, I have appointments with my therapist about once a month, and we talk through anything that is bothering me since my last visit. My treatment plan involves medication, psychotherapy, sleep management, good nutrition, and exercise. I am dedicated to following through with my plan because I know how important it is for me to balance all the components in order to stay healthy.
Not being afraid to ask for help: this is the big one. I have incredible support in my family and friends. If I am ever feeling as though hypomania is teetering too close to mania, or I am beginning to slide down into depression, I know that I can call on someone who will be there to help. If I need to catch up on sleep — the way I needed to after my recent trip to Seattle for a writer's retreat, or how I'll need a day of recovery after The Overnight Walk for suicide prevention the first weekend in June — I make plans in advance to have a family member stay with the kids while I get back on my sleep schedule. I am extremely grateful and thankful to have a solid support system around me, because I know that they've helped me to reach this point in my life where I feel like I'm beating this illness. I wouldn't be where I am today if they weren't by my side, supporting me along the way.
It has been estimated that one in four Americans lives with some form of mental illness. In the beginning stages of diagnosis and early days and weeks of treatment, things can seem so far from normal — hopeless, even. But that doesn't have to be the case; there is hope. My hope is that by speaking openly about how I live with a mental illness, and by sharing my coping mechanisms, I may inspire others to reach a sense of acceptance. With acceptance comes comfort. Comfort in the knowledge that we're not alone. That others are going through similar challenges to ours and we can help each other through. This is what life is all about.
Jennifer is 34 years old, a wife and mother of two young children. She experienced her first manic episode over seven years ago. Over the course of several months and many doctor's appointments, she was diagnosed with Type I Bipolar Disorder. Her blog is her way of keeping herself accountable and healthy for her family, as well as documenting her progress. Jennifer is working on writing a memoir, and also has several side blogging projects with WhatToExpect.com's Word of Mom community. She has contributed to Lamaze.com's blog, Giving Birth with Confidence, and an online anthology of women who have struggled with mental illness called It's All In Her Head. By writing, Jennifer hopes to help fight stigma and inspire other young people who are struggling with the same feelings, fears, and insecurities that she was at one point. She says, "There is a light at the end of the tunnel. You just need to keep fighting hard to get there."
© Copyright 2013 GoodTherapy.org. All rights reserved.
The preceding article was solely written by the author named above. Any views and opinions expressed are not necessarily shared by GoodTherapy.org. Questions or concerns about the preceding article can be directed to the author or posted as a comment below.