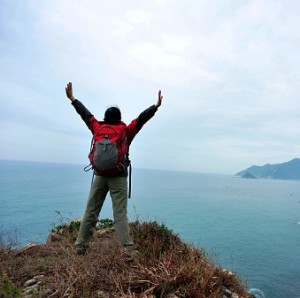 Well, here we are in the early days of a new year. Traditionally, this is the time when we take stock of everything that's happened in the previous year and then focus on what's next.
Here are five suggestions for making this year one of your best years ever.
1. Set Attainable Goals
Some of us make New Year's resolutions, setting goals and lists of things we wish to achieve before the year draws to a close. Whether or not the goals you set for yourself this year are New Year's resolutions, remember that goal setting is an important part of making change in your life. Even if you don't attain the goals you set for yourself, simply working toward them may make you happier.
Three things to remember when you set a goal:
Get a clear idea about something you really want to achieve. You need to identify and articulate the goal clearly. Put it in writing.
Make an actionable plan to work toward achieving the goal. Put this in writing, too.
Remember to celebrate your victories.
For more ideas on how to achieve the resolutions you set for yourself, read my article from last month: Six Ways to Make This New Year's Resolution Stick.
2. Take Care of Yourself
Staying healthy means loving yourself and taking care of yourself. No doubt your time is filled with responsibilities and obligations—taking care of others and meeting the demands of your daily work schedule. Even in the most hectic schedule, though, there are ways of working in practices that will contribute to your overall health.
Taking care of your body:
Find ways to make exercise part of your daily routine.
Go for a walk during your lunch break.
Ride a bicycle to work.
Pack a healthy lunch.
Make a conscious effort to make all meals healthier.
Practice yoga or tai chi.
Feeding your mind:
Listen to music or go to concerts more often.
Read.
Start keeping a journal; record your ideas, thoughts, and feelings.
Start making positive affirmations every day.
Nourishing your spirit:
Find ways to connect with nature; take up hiking, go for a daily walk, or simply lay on the grass for a little while (weather permitting).
Take up the practice of meditation.
Find ways to be of service; volunteer in your community.
Pray.
Love unconditionally and practice forgiveness every day.
3. Count Your Blessings
You've all heard the saying: Is the glass half empty or half full? It's a metaphor for how one approaches life. When we see the glass as half empty, we are taking note of things that we might want but don't have. When we see the glass as half full, we are focusing on the things we actually have; we are counting our blessings.
According to Dr. Robert Emmons, professor of psychology at the University of California and one of the world's leading scientific experts on gratitude, people who practice gratitude are 25% happier than those who don't. He suggests a good place to begin is writing down a personal commitment to practicing gratitude and then posting it where you will see it every day.
4. Face Your Fears
We all experience fear from time to time, but if you have fears that are holding you back, then it is time to take stock and take action. It's time to focus on that fear, acknowledge it, and change the way you think about it. Become curious about it and really delve into it; learn about it. Use your imagination and picture the outcomes you want and then set some small, achievable goals around dealing with your fear.
Celebrate each success.
5. Stay in the Moment
As we go through hectic days, our minds are constantly busy thinking about what's coming next or lost in worry about what has happened. Being mindful and staying in the moment is often something that has to be learned. Mindfulness is learned from the practice of meditation. There are many forms of meditation that can be practiced easily on your own, without having to join a special group. Read my article, Helpful and Easy Ways to Reduce Stress, to learn easy-to-implement meditation and breathing techniques. No matter what challenges you are facing, choosing to be fully present in the moment will enhance your experiences and make your days less stressful.
References:
Siegel, DJ (2007). The Mindful Brain: Reflection and Attunement in the Cultivation of Well-Being. Retrieved from http://www.openground.com.au/articles/Siegel-article.pdf
Emmons, Robert A. (2010). 10 Ways to Become More Grateful. Retrieved from http://greatergood.berkeley.edu/article/item/ten_ways_to_become_more_grateful1

The preceding article was solely written by the author named above. Any views and opinions expressed are not necessarily shared by GoodTherapy.org. Questions or concerns about the preceding article can be directed to the author or posted as a comment below.