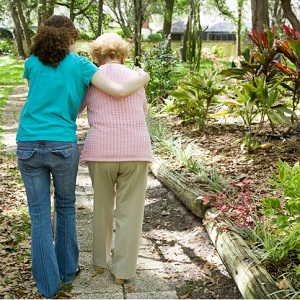 According to the Family Caregiver Alliance, 40% to 70% of family caregivers have clinically significant symptoms of depression, with about a quarter to half of these caregivers meeting the diagnostic criteria for major depression. That is a remarkable difference when compared to a depression rate of 6.7% among people in general.
While reviewing the literature, I found the following five factors related to depression among caregivers. Some are commonly discussed, but a few may be things you had not considered.
Isolation
Many caregivers find themselves isolated from the traditional social networks that others take for granted. In addition to having little time to socialize with friends and family, caregivers often give up other sources of social contact, such as church/synagogue, memberships in clubs and organizations, and, in many cases, work.
Social connections are vital to mental health. Try to maintain as many of your connections as possible by using sitters or other resources. If you can't go out to connect with others, invite them over. Consider a weekly potluck, game night, book club, movie night, or other social events. Connect with people online via Facebook and other social networks.
Role Conflict
When we take on additional responsibilities, it is not uncommon to experience role conflict. This means that our various roles—employee, spouse, parent, caregiver—begin to overlap, creating stress and difficulty fulfilling them. For many, the inability to perform well creates feelings of guilt, frustration, and/or loss of confidence and esteem. These feelings may contribute to depression.
It may be helpful to clarify for yourself what you can and can't take on. Some people seem to have a default setting of, "I must do everything myself or it will not get done." This is not always true. Ask for help. Accept help when it is offered. Recognize your limitations, and set boundaries when possible. Prioritize your needs and responsibilities, and delegate or let go of things that someone else can do.
Change in Identity
Many caregivers experience a loss of identity with the increase in caregiving and decrease in other areas of life. Someone who once took pride in his or her job and identified with that sense of accomplishment may feel lost without the work. A person who previously sang in the choir at church may find himself or herself unfulfilled without that creative and social outlet, sense of belonging, and identity. The loss of identity is often experienced as a loss of self. You stop seeing yourself as a singer, good worker, great spouse, or involved mom, and experience those changes as losses.
If there is any way to maintain your involvement in at least some things that give meaning to your life, make every effort to continue. The time you take to replenish and fill your self will make caregiving easier for you and your loved one. You will have more to give and feel less depleted.
Guilt and Shame
It is common to hear caregivers express feelings of guilt and shame about conflicting or "negative" thoughts and feelings regarding their role as caregiver. One who resents the stress, inconvenience, and/or losses related to their caregiving duties may find their misery is compounded by feelings of guilt or shame.
It is normal to have thoughts and feelings of resentment when you must give up so much of your own life and self. However, there are some caregivers who embrace these duties without the conflicting or "negative" feelings. What we know about them is that their life experience, temperament, or sense of purpose may be different from others.
For example, some are better prepared for caregiving because they grew up with a parent or sibling who had health problems. Other people do not experience the sense of loss that some do; perhaps they gave up less or did not find the things they gave up to be that fulfilling. Many are natural helpers who believe their purpose in life is to care for others; they may find caregiving to be fulfilling. There are some who have a deep and abiding faith that enables them to embrace life changes with ease.
Empathy Overload
Some people are naturally empathic. They feel the feelings of other people and may even take on those feelings as their own. Also called emotional sensitivity or being highly sensitive, this trait affects about 20% of the population. Although I don't have any data to support this, my guess is that many of these people are represented in the helping profession and/or may find themselves as family or spousal caregivers.
If you are one who feels things deeply and are moved by the plight of others, it is important to learn how to take care of yourself. It is difficult to spend time with someone who is ill or disabled without feeling their pain and suffering, especially if you are highly sensitive. Boundaries are an important aspect of self-care. Learn how to soothe yourself when you experience emotional overload, and to protect yourself from taking on the feelings of others. A good therapist can help you learn these skills.
While we can't change our temperament, we can change our thinking. Often, by viewing life challenges or losses differently, we can learn to better manage our emotions. You can read more about this here.
Reference
Zarit, S. (2006). Assessment of Family Caregivers: A Research Perspective in Family Caregiver Alliance (Eds.), Caregiver Assessment: Voices and Views from the Field. Report from a National Consensus Development Conference (Vol. II) (pp. 12-37). San Francisco: Family Caregiver Alliance.
© Copyright 2014 GoodTherapy.org. All rights reserved. Permission to publish granted by LuAnn Pierce, LCSW
The preceding article was solely written by the author named above. Any views and opinions expressed are not necessarily shared by GoodTherapy.org. Questions or concerns about the preceding article can be directed to the author or posted as a comment below.