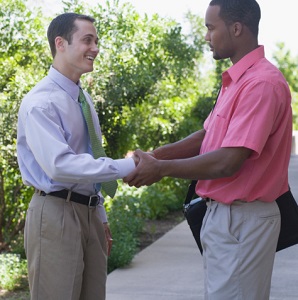 Though not judging a book by its cover is a widely admonished adage, new research suggests that people are innately inclined to do just that. First impressions—based on appearance—stick, whether we want them to or not.
A series of studies presented at a conference of the Society for Personality and Social Psychology in Austin, Texas, revealed that in a matter of seconds, people tend to size up each other's outward trappings and make snap judgments of everything from trustworthiness to sexual orientation. It happens so automatically that "we can't help but do it," according to researcher Nicholas Rule.
"As soon as one sees another person, an impression is formed," said Rule. "This happens so quickly—just a small fraction of a second—that what we see can sometimes dominate what we know."
And once we've formed an initial, superficial opinion of someone, it can be difficult to alter it, regardless of how fervently the moral mind may wish to tolerate and accept a person.
In one of these studies, Rule and colleagues focused on people's perceptions of sexual orientation in photographs of 20 men. The 100 participants were told whether the men in the photos were gay or straight in the "learning phase" of the experiment.
But when the pictures were shown to them again and they were given different lengths of time to assess each subject's sexual orientation, the participants went solely on visuals, not facts: the less time they had to judge a person, the more quickly they were to make flawed assessments.
This also applies to romantic interactions; when meeting one another for the first time in person, people are likely to follow how they feel and listen to their gut reactions. When meeting for the first time online, people tend to be more analytical and critical.
Based on research results, this appears to be because it is difficult to experience accurate, authentic feelings when viewing someone's online dating profile. This is similar to a phenomenon known as the online disinhibition effect, which is the tendency to overshare personal information online, simply because face-to-face interaction isn't putting one's inhibitions in check.
There is always the possibility that a person may seem ideal based on their online information and photos, but in person, the chemistry simply might not be felt.
Reference:
Society for Personality and Social Psychology. (2014, February 14). Even fact will not change first impressions. Press Release. Retrieved from http://www.eurekalert.org/pub_releases/2014-02/sfpa-efw021414.php
© Copyright 2014 GoodTherapy.org. All rights reserved.
The preceding article was solely written by the author named above. Any views and opinions expressed are not necessarily shared by GoodTherapy.org. Questions or concerns about the preceding article can be directed to the author or posted as a comment below.