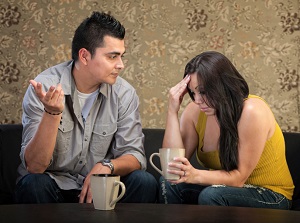 You might think that happy couples shouldn't be fighting at all. But according to relationship experts, even happy couples will probably hit these relationship speed bumps at some point on their journey through marital bliss. When partners first meet, they are so consumed with their physical attraction for each other, those cute little quirks and the constant flurry of butterflies, that they can't even begin to see that life is still going on around them. When your puppy love finally gets housebroken and true love settles in, so do the glaring differences between you and your partner. But according to experts, these fights do not have to be deal breakers; they just have to be negotiated.
The Money Fight: Rarely do two strangers enter a relationship with the same perspective on money, or the same saving and spending habits. Being clear with each other from the start by working on financial goals and budgeting together can help you avoid those inevitable moments of financial frustration.
The "You Used to Like Sex" Fight: Regardless of your gender or your age, chances are pretty good that your libido will find its way back in the cage it escaped from when you first fell head over heels in love with your soulmate. Marriage therapist and clinical psychologist Alexandra Solomon says that aging and life stressors can change a sex drive as well. "Our sex drive is always changing, our interests are always changing, and our bodies are always changing," says Solomon. Rather than keeping that tension bottled up, talk out the differences in your sexual appetites and ways to keep you both satisfied.
The In-Law Fight: Even if you marry later in life, there will almost always be extended family members that enter into your marriage. Discuss when and where you will entertain, spend the holidays, and vacation before you proceed with any of those activities. Most importantly, though spending time with those siblings, cousins, parents, and adult children is essential, spending time with your immediate family should be a priority.
The "You're Doing it Wrong" Fight: So he loads the dishwasher differently than you do, or she puts your work clothes on the wrong hangers, at least the dishwasher is empty and the clothes are hung. Fighting over doing it your way or the right way is not going to get your desired results. Accept that each of you came to the relationship with ingrained habits and differences, some of which drew you together. Don't try to change everything about each other now that you can finally see your differences.
Being Helpful without Being Hurtful Fight: We all want our loved ones to support us, guide us and be our biggest advocates. But we also don't want to feel like we need their help. It's a delicate dance when your partner asks for your help. Be sure to offer it, but only to the extent that they want it. In other words, don't show them how to swing the hammer if they only ask you to hand it to them.
Get these essential arguments out of the way early on and you and your partner can avoid some of the major pitfalls that many committed couples encounter.
Reference:
Ross, Valerie, and Leigh Newman. Marriage arguments: Fights all couples have to have at least once. (n.d.): n. pag. Huffington Post. 27 Feb. 2013. Web. 28 Feb. 2013. http://www.huffingtonpost.com/2013/02/27/marriage-arguments-fights-couples_n_2689530.html
© Copyright 2013 GoodTherapy.org. All rights reserved.
The preceding article was solely written by the author named above. Any views and opinions expressed are not necessarily shared by GoodTherapy.org. Questions or concerns about the preceding article can be directed to the author or posted as a comment below.