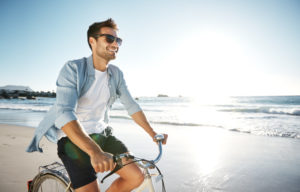 Known as the body's natural "feel-good" chemicals, endorphins stimulate feelings of pleasure, well-being, and pain relief, making them an essential component in a balanced, happy life. Endorphins are neurotransmitters secreted in response to stress and pain, which we all feel from time to time.
Thankfully, there are a variety of ways to tap into the mood-boosting, stress-relieving benefits of endorphins and get their full, opiate-like effect flowing. Though endorphins are commonly associated with the "runner's high" achieved through vigorous exercise, the positive mood shifts associated with them don't necessarily require strenuous physical activity.
The following are seven endorphin-boosting activities to turn to in times of trouble, or when you just need a little lift.
1. Exercise
By moving your body and increasing your heart rate with cardiovascular exercise, you can stimulate the production of endorphins in the bloodstream. As soon as the heart starts pumping and sweat glands start perspiring, the rush of feel-good chemicals kicks in to reduce the brain's perception of pain. However, you may have to push through that initial stage of discomfort to fully experience the endorphin-induced exercise high.
As an added bonus, if you're trying to kick a harmful habit, exercise is considered a highly effective coping mechanism in most forms of addiction recovery; the natural endorphin high offers respite from incessant cravings for drugs, alcohol, or junk food.
So take an exercise class, go for a run or a bike ride, or do some calisthenics (lunges, squats, leg lifts, etc.) in your spare time. Cleaning, gardening, yard work, or something as simple as a brisk walk or a midday session of yoga or deep breathing and stretching will also kick endorphins into gear.
2. Eat chocolate and chili peppers
Chocolate is celebrated cross-culturally as a pleasurable indulgence, and endorphin release is just one of many reasons to enjoy its blissful effects on the body. The mood-boosting and inflammation-reducing benefits of chocolate consumption are well established and widely used to justify indulging in it regularly (Stoppler, 2007).
If you can stand the heat, chili peppers are another edible endorphin releaser. According to researchers, chili peppers contain a chemical called capsaicin that triggers the pain-relieving, feel-good effect in response to this fiery food's heat—the hotter the pepper, the better (Carollo, 2012).
And, of course, there's always the dark chocolate-chili pepper combination. From rich hot chocolate drinks to chocolate bars that blend the two, a number of options are available if you'd like to sample this combo for a double dose of endorphin release.
3. Drink wine
While this is only applicable to individuals who are of age to consume alcohol legally, several studies can confirm: wine can enhance those feel-good chemicals.
According to research published in the Journal of Neuroscience, enjoying a small amount of alcohol, especially wine, at the end of the day can boost endorphins (Ireland, 2014). Both red and white wine contain antioxidants, and red wine contains resveratrol, which has been shown to reduce inflammation, slow the aging process, and protect against arterial damage (Hendrick, 2010; Mayo Clinic, 2011).
Another study published in Science Translational Medicine examined the effects of alcohol-induced endorphins on the brains of social drinkers and "problem drinkers." They concluded that endorphins play an enormous role in the desire to keep drinking once the initial rush of feel-good chemicals have been released. This is true for social and problem drinkers, though those who are prone to addiction will be more likely to drink to excess (Simon, 2012).
So be mindful and drink in moderation when indulging in this pastime. One to two glasses should suffice to get you basking in the mood-enhancing, ethanol-endorphin glow.
4. Have sex
Engaging in regular sexual activity feels good, relieves stress, and releases endorphins. In fact, endorphins are largely responsible for the anxiety– and pain-reducing effects of sex (Newsmax Health, 2013).
The endorphins produced during sexual arousal and shared affection also stimulate the production of oxytocin, aptly referred to as the "love hormone," as well as other neurochemicals like dopamine (Stoppler, 2007). The combination of these chemicals creates a blissed-out, deeply satisfying sensation throughout the body during and after sexual contact.
(This tip is for consenting adults who are practicing safe sex.)
5. Get a massage
Touch-oriented modes of healing and pain management such as acupuncture, massage, chiropractic adjustments, and hydrotherapy are known to stimulate endorphin release (O'Sullivan). This is part of what makes these treatments so popular—they leave you feeling relaxed, relieved, and revived.  Plus, you don't have to do anything but sit or lie down and let the good feelings flow.
6. Meditate
Simply relaxing and focusing the mind on meditation triggers the release of endorphins and also helps increase dopamine, serotonin, and melatonin. This cocktail of chemicals flooding the bloodstream leaves the meditator feeling calm, happy, and content. One study found the effects of running and meditation on mood to be very similar—both activities produce endorphins and lead to positive feelings (Harte, Eifert, and Smith, 1995).
For someone new to meditation, the following tips may help you ease into its pleasing effects.
Find a quiet spot free from distraction. Ideally, this will be a place where you can sit or lie down comfortably.
Consider lighting a candle and/or listening to soothing music.
Shift your attention away from the myriad thoughts and worries that tend to flood the mind in the initial moments of meditation. Repeating a simple mantra may help.
Breathe slowly, deeply, and consciously. Allow your breath to guide you into a state of deep awareness and relaxation.
7. Laugh
Laughing lifts the spirits and relieves tension. This is somewhat of a given for anyone who has ever experienced a good belly laugh. But did you know that part of the reason laughing feels so good is because of the endorphins that stream through your system when you do?
According to research presented at a meeting of the American Physiological Society (2006), just knowing that laughter is coming boosts endorphins and sets the feel-good vibes in motion. Stress reduction and improved immune functioning are added perks of letting loose with laughter.
References:
American Physiological Society. (2006, April 3). Just the expectation of a mirthful laughter experience boosts endorphins 27 percent, HGH 87 percent. Phys.org. Retrieved from http://phys.org/news63293074.html
Carollo, K. (2012, February 20). The world's hottest pepper: Brings pleasure and pain relief. ABC News. Retrieved from http://abcnews.go.com/Health/capsaicin-ingredient-hot-peppers-offers-medical-benefits/story?id=15727011
Harte, J. L., Eifert, G. H., and Smith, R. (1995, June). The effects of running and meditation on beta-endorphin, corticotropin-releasing hormone and cortisol in plasma, and on mood. Biological Psychology, 40, (3), 251-265. Retrieved from http://www.sciencedirect.com/science/article/pii/030105119505118T
Hendrick, B. (2010, August 4). Resveratrol may slow aging in humans: plant extract resveratrol suppresses inflammation, study finds. WebMD Health News. Retrieved from http://www.webmd.com/healthy-aging/news/20100804/resveratrol-may-suppress-inflammation-in-humans
Ireland, K. (2014, February 10). How to boost endorphins. Livestrong.com. Retrieved from http://www.livestrong.com/article/88275-boost-endorphins/
Mayo Clinic. (2011, March 4). Red wine and resveratrol: good for your heart? Diseases and Conditions. Retrieved from http://www.mayoclinic.org/diseases-conditions/heart-disease/in-depth/red-wine/ART-20048281
Newsmax Health. (2013, July 8). Regular sex makes you look 7 years younger: researcher. Retrieved from http://www.newsmaxhealth.com/Health-News/sex-aging-health-benefits-endorphins/2013/07/08/id/513728
O'Sullivan, B. What are endorphins? The Road to Health Newsletter. Retrieved from http://www.road-to-health.com/64/What_are_Endorphins_.html
Simon, G. (2012, January 18). Alcohol and endorphins: 'feel good' chemical key to problem drinking? Counselling Resource. Retrieved from http://counsellingresource.com/features/2012/01/18/endorphins-and-alcohol/
Stoppler, M. C. (2007, March 15). Endorphins: natural pain and stress fighters. MedicineNet.com. Retrieved from http://www.medicinenet.com/script/main/art.asp?articlekey=55001
WebMD. (2012, July 23). Exercise and depression. Retrieved from http://www.webmd.com/depression/guide/exercise-depression
© Copyright 2014 GoodTherapy.org. All rights reserved.
The preceding article was solely written by the author named above. Any views and opinions expressed are not necessarily shared by GoodTherapy.org. Questions or concerns about the preceding article can be directed to the author or posted as a comment below.