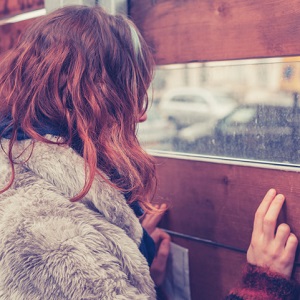 The pervasive challenge of overcoming fears of abandonment is similar to always having to walk uphill under leaden skies carrying an umbrella heavy as stone. The head-shaking irony of the thing is I haven't been able to bring myself to a qualified therapist for two reasons. The first is that I am afraid they will leave practice with me as a client and I will have exhausted myself at great emotional risk for nothing.
The second is, I cannot shake the image of Darrell Hammond as Sean Connery saying, "I'll take 'The Rapists' for $200, Alex" on a Saturday Night Live parody of Jeopardy I saw years ago. Go ahead and laugh … I do.
Aside from the money given to a stranger to listen, there is an emotional rape of sorts that leaves a raw wound that stays open even out of the office. At least if I never face the traumatic causes of my fears of abandonment, I can keep all my wounds covered in their hardened scabs.
Trouble is, reader, I never heal. I just hang on battling the storm of the unshakable effects of my multiple childhood abandonments. Relationships with potentially close friends, with boyfriends, with co-workers are all handicapped due to my emotional handicap.
I swim in a storm of isolation. I am buffeted by thoughts of worthlessness and doubt. I see the end before the relationships can even begin, and I plan my escape before I even decide to open the door to trust. I enter my loving partnerships with the following perspective: "This is a wonderful person! I love being around them. I will enjoy them and love them as hard as I can until they figure out I am a loser and drop me." Up until lately, though, I have always dropped them first … duck and cover.
What inspired the courage for me to write today? I have been left behind three times in a row within the last six months. I fear my outward armor of good cheer may have blatant cracks of neediness and instability there for all to see. In moments of recent denial, I have blamed my age or thickening waistline—the latter having prompted me to hit the treadmill for five miles a day and feast on cabbage soup; the former driving me to the Skin Klinic for a thrice annual injection of Botox, right … between … the eyes.
The fact of the matter is, I run even as I know that I can't hide forever. The truth is indeed right there for me to see. I am tired, but still scared to face my demons. I am a Virgo and therefore diabolically analytical. I have tried to rationalize and process my way out from under my leaden sky, out from under my umbrella heavy as stone.
I have had some success. But not enough. The evidence is there in my inability to handle high levels of responsibility, my inability to deepen personal relationships, my inability to love myself.
There is the rub.
Where is the therapist qualified to handle the myriad of traumas I have stood against?
Where is the trust needed to even begin to seek that individual?
Right under this scab … right … here! Ouch!
© Copyright 2014 GoodTherapy.org. All rights reserved.
The preceding article was solely written by the author named above. Any views and opinions expressed are not necessarily shared by GoodTherapy.org. Questions or concerns about the preceding article can be directed to the author or posted as a comment below.