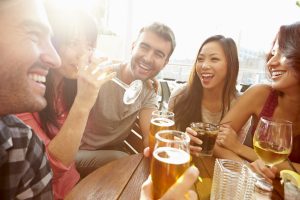 To coincide with the start of the school year, a new study published in the journal Self and Identity explores the motivations behind drinking alcohol in college. Researchers found students with low self-esteem are more likely to indulge and binge drink than their more confident peers.
The researchers surveyed a sample of 195 students, measuring levels of self-esteem. They asked the young adults to think about any aspects of themselves they kept hidden from their best friends. One group of students was then shown a fake article on how secrets can cause conflict between friends, inducing a threat to the students' sense of belonging. A control group was given an article detailing how hidden aspects of personality have no effect on friendships. The next night, researchers questioned the students on how many alcoholic drinks they had consumed with other friends the previous night.
According to the findings, students with lower levels of self-esteem drank more and sought more positive social interactions with other friends in an effort to compensate for the perceived threat with a best friend. The researchers suggest students with low self-esteem and low confidence may be less able to cope with self-doubt and may be more susceptible to peer pressure in order to feel like they fit in with others.
With past research showing negative experiences and emotions can increase alcohol consumption, the researchers point to the importance of interventions to help students increase their self-esteem and self-acceptance.
suicide
is about 33%, the average at USU is 46%. The student association hopes this declaration will persuade state lawmakers to increase funds for mental health treatment and college suicide prevention programs at USU as well as other colleges throughout the country.
Researchers in Britain consider loneliness to be a public health issue in need of more attention and funding. Loneliness and isolation can contribute to both physical and mental health issues such as cognitive decline, physical illness, and depression, especially among older adults. To help combat loneliness, Britain has a confidential helpline—called The Silver Line—for older adults who just need to talk to someone.
New research suggests people who gamble frequently may be more prone to violence and abuse, including domestic violence. After surveying more than 3,000 men from various socioeconomic backgrounds across the United Kingdom, researchers determined the more severe the gambling habit, the higher the risk of violent behavior toward others. About half of serious gamblers and 45% of "problem gamblers" reported being violent toward others at some point. Only 19% of people surveyed who did not gamble reported being involved in some type of violence.
In a small study of college-age students, researchers have determined people with knowledge of some foreign languages have faster reaction and processing times in the brain. Electroencephalographic (EEG) scans of the students' brains showed electrical activity was higher in the brains of those who knew a foreign language. Scientists believe these findings are important for understanding how the brain functions after acquiring a new language, and they may help researchers find ways to treat speech problems after accidents or strokes.
A finding from a recent Australian study on the gender pay gap is challenging the assumption that women do not ask for more money from employers due to fear, worry, or a lower amount of ambition in the workplace compared to men. According to the study, men are 25% more likely than women to be offered a raise after asking for one, even though women ask for raises just as often. In the United States, women generally earn $0.78 for every dollar a man earns in the same jobs and with the same amount of experience. The researchers suggest discrimination toward women may play a bigger part than previously thought in the gender pay gap.
A national study of states' use of Medicaid to cover children's mental health needs shows as many as 46 states cover some important treatment options, but many other key services are only covered by a few states. For example, only 12 states pay for parenting programs that focus on children's mental health, and only nine states cover screening for depression in mothers. Researchers highlight the need for policymakers to examine what their state offers and what gaps in children's mental health coverage need to be filled.

The preceding article was solely written by the author named above. Any views and opinions expressed are not necessarily shared by GoodTherapy.org. Questions or concerns about the preceding article can be directed to the author or posted as a comment below.