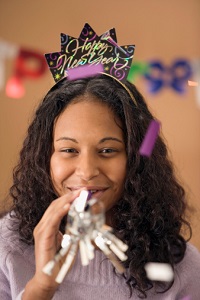 As humans we occupy the odd position of knowing we will die, without knowing how, where, or when, creating a fundamental tension in human existence. The awareness of death also creates denial, and an urge to control things. We are prone to critiquing ourselves and our lives (and often other people), in some sense as a way to manage our anxiety over death. We feel if we know what's wrong, we can fix it; then we'll be happy, and have no regrets when we die. (Probably we are hoping we will never die, but that's another discussion.)
In the beginning of a new year (whenever we mark it) we often look over our lives, see what went well and what we regret, and vow to do something about it. (A similar process takes place in dying, though there is little to be done at that point. Still, we can't help but review.)
Often we vow to be more rigorous, or correct some perceived deficiencies in our characters or habits, failing to consider that we might already be fine. We fail to consider the ramifications of self-hate, which is what most of us base our resolutions on. We fail to investigate what is truly important. The act of vowing to improve can be an act of self-aggression, and it might be useful to note that we get good only at what we practice. So, if we practice telling ourselves what is wrong with us and what we should do to improve, what we actually get good at is criticism.
We often let our anxiety drive the desire to improve. The "if onlys" run rampant this time of year. We think we will be happier if we lose weight, stop smoking, exercise regularly, etc. While these things may contribute to our physical well-being, the stress of constantly telling ourselves we are not good enough will counteract any material health we might gain.
I was recently treated to a blog post by Bronnie Ware, a former hospice worker. She recounted the five things dying people most often regret. Guess what? It's not about being more organized, or thinner, or more fashionable. When we know for certain we are leaving this life, what we regret is not being our authentic selves and not being more connected with others. We regret not generating enough love and happiness. Specifically, we regret not being true to ourselves, not expressing our feelings, losing touch with friends, working too much, and not choosing happiness. We can lose weight when we die (we'll lose all of it, give or take 20 grams). But we cannot express ourselves after we are gone.
The choice is simple: do we come from love or fear?
If we try to change something about ourselves out of fear—that we are not good enough, that no one will love us unless we change—we put immense and unrealistic pressure on ourselves, and all our survival mechanisms kick in to resist. These are the mechanisms that get us into trouble in the first place, by associating safety with food, cigarettes, alcohol, etc., and generally numbing out. There is no way to beat this mechanism, because it has our survival at stake, and is determined to win. If we threaten ourselves, we activate exactly what we are trying to eliminate.
The simpler and more effective approach is a loving, compassionate curiosity about ourselves and our lives. If we don't feel well we can investigate what is going on here and now, and how to stay present with it in the moment. If we can learn to tolerate and investigate discomfort in the present moment, without pushing it away or making it or ourselves wrong for experiencing it, then we might notice that discomfort comes and goes, and eventually subsides on its own. This information, which is only available through direct experience (we can't just be told—our survival instinct is inherently suspicious of such notions) is deeply valuable and calming. When we are calm, we can make choices that truly serve us and lead us along the path we want to walk. When we are under attack (again, usually from ourselves), we have no choice and no power to change.
Three simple keys to self-kindness:
1. Practice speaking kindly to yourself several times a day, for a few moments at a time. This counteracts the hidden narrative of self-criticism in which most of us are engaged without being aware of it. It also helps develop the reflex to reach for kindness in times of stress.
2. Think of yourself as a child, or consider what you would say to a friend you love deeply, or how you would tend to a small wounded animal. This helps connect us with our innate feelings of loving-kindness.
3. Take several deep breaths and remind yourself of your intention to develop kindness to yourself. Breathe in and out in kindness to yourself and the world.
Bonus points for not beating up on yourself when you forget to be kind to yourself.
Being friendly to ourselves relaxes us so we can choose to express our true selves, which is what we came here for. When we live authentically we will have fewer regrets on a daily and yearly basis, not to mention at the time of our deaths (which, in truth, could be any moment). Practicing kindness to ourselves expands to include kindness to others, and generates health and well-being for creatures without number. What better resolve could we make?
May peace be with you, and have a kind new year.
© Copyright 2011 by Ker Cleary, LPC, therapist in Eugene, Oregon. All Rights Reserved. Permission to publish granted to GoodTherapy.org.
The preceding article was solely written by the author named above. Any views and opinions expressed are not necessarily shared by GoodTherapy.org. Questions or concerns about the preceding article can be directed to the author or posted as a comment below.