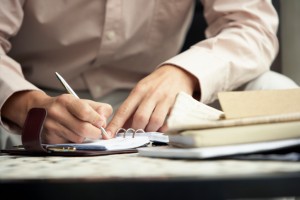 With a new year under way, you may be thinking about developing (easy) or keeping (not so easy) resolutions. Indeed, the beginning of a calendar year is a good time to evaluate things that are going well and things that could be improved. For the purposes of improving things related to attention-deficit hyperactivity (ADHD), such as time management, organization, and task completion, it may be helpful to pick one or two key areas of difficulty and focus first on those. Even for people who don't experience ADHD, making resolutions for too many things may make it more challenging to follow through on any of them.
Here is a step-by-step method for developing a resolution plan and succeeding in implementing and sustaining it:
Identify an area you are struggling with (paying bills, getting places on time, completing tasks at work, etc.).
Make a list of five things impeding your ability to do these things successfully.
Identify one thing you could do differently to improve each specific difficulty related to the area you are struggling with.
Write down three basic tools/systems you could implement to make it easier to be successful in this domain.
Let's say you've identified paying bills as an issue. Here's how you might go about following the plan above.
1. Area of difficulty: Paying bills
2. List of five things that impede ability to pay bills
Don't always remember what bills I have
Trouble remembering when each bill is due
Procrastinating and missing due dates
Confusion regarding what is actually due versus total balance
Difficulty remembering to transfer money into the right checking account(s)
3. Identify one thing that could be done differently to improve each item listed above (with No. 1 referring to No. 1 above, etc.)
Make a list on an Excel spreadsheet, Word document, notes app, etc., of every bill.
Add the due date of each bill to the list.
Set aside time once per week when usually home to pay all bills due in the next week (or, if possible, pay any bills due in the next month), and enter this time on your calendar. If using an electronic calendar, set reminder alerts.
Sit down with a partner, friend, etc., or call the company you pay the bill to and walk through a sample bill to make sure you understand what everything means. Write a few notes on the bill so you will remember what each item refers to. Keep these in a binder or scan them into the computer and keep them in a prominent folder and/or a "cloud" system you can access from your mobile device.
Before you write any checks or pay any bills, transfer the money that is to be paid into the right account. If needed, put reminders in your phone to do this.
4. Three Basic Tools/Systems to Improve Area of Difficulty
Use alerts from bank companies to notify you when you have a balance below a certain level, and use auto-pay options through the bank when feasible.
Set up automatic bank transfers to move funds into the proper checking accounts before bills are due.
Put due dates for each bill on your calendar and set reminder alerts on your mobile device for these days as well as a few days before as a backup.
For many individuals with ADHD, tasks that may seem simple to most people are often very difficult, in part because of the steps involved and having to remember to complete them. I hope you can use the system suggested here to identify an area of difficulty in your own life, make a resolution to improve on it, and be successful in bringing about sustained improvement.

The preceding article was solely written by the author named above. Any views and opinions expressed are not necessarily shared by GoodTherapy.org. Questions or concerns about the preceding article can be directed to the author or posted as a comment below.