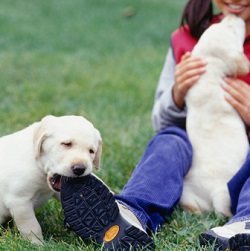 Anyone who's ever been endlessly pawed by a dog who's not getting what it wants knows that dogs experience a range of emotions. Science sometimes moves more slowly than popular wisdom, though, and a new study reveals what many dog owners already knew. When you pet another dog, your dog really does get jealous.
Dogs and Jealousy
Christine Harris, a University of California, San Diego, psychologist, wanted to see how dogs reacted to watching their humans pet another dog. She compared dogs' reactions when their owners played with a realistic-looking stuffed dog, a children's book, and a jack-o-lantern. The dogs reacted most strongly when their people played with the stuffed dog, with most dogs raising their tales, touching or pushing their owners, or pushing the stuffed dog out of the way. Other common reactions included inserting themselves between the stuffed dog and their owner, biting the stuffed dog, barking, and whining.
jealousy
, it is undeniably there.
The Challenge of Understanding Dog Emotions
Not all researchers agree with Harris's conclusions. Alexandra Horowitz, a cognitive scientist and author of Inside of a Dog, has argued that Harris's study does not show jealousy. Instead, the study shows that dogs seek attention when they see that attention is available.
Because we can't ask dogs what they're feeling, proving that they experience any specific emotion will always be challenging. We do know that dogs are highly social animals, and the authors of The Social Dog: Behaviour and Cognition argue that dogs need excellent social skills and a constant awareness of their relationships with other members of their pack to survive. No dog experts deny that dogs feel emotions; instead, the question is which emotions they feel and when they feel them.
In some cases, it can be harmful to attribute to dogs emotions they do not feel. When a dog looks guilty after destroying a book or pair of shoes, for example, the dog's not likely feeling guilt. After all, there's nothing in the dog's evolutionary history that would suggest to him or her that chewing a new object is immoral. Instead, dogs who show guilt are likely fearful of their owners' reactions. Similarly, owners who believe that their dogs are angry because they growl or become aggressive might not notice that the aggression is the product of fear or inadequate socialization.
Concerns about properly interpreting dogs' behavior and emotions have led some owners to turn to a behaviorist approach. Reward-based training methods focus on the dog's behavior rather than trying to discern the dog's feelings.
References:
Gorman, J. (2014, July 23). Inside man's best friend, study says, may lurk a green-eyed monster. Retrieved from http://www.nytimes.com/2014/07/24/science/entering-gray-area-study-says-dogs-can-be-green-with-envy.html
Kaminski, J., & Marshall-Pescini, S. (2014). The social dog: Behaviour and cognition. Amsterdam: Academic Press.
Miller, P. (2001). The power of positive dog training. New York: Hungry Minds.

The preceding article was solely written by the author named above. Any views and opinions expressed are not necessarily shared by GoodTherapy.org. Questions or concerns about the preceding article can be directed to the author or posted as a comment below.