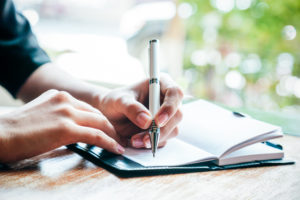 Here's a simple test to see if your important relationships and activities are priorities in your life. Pull out your calendar and review your many tasks, appointments, and responsibilities. How many of your life's priorities are on your calendar? How much time for family, friends, and hobbies have you scheduled for yourself? Do you find that your calendar is full of activities and responsibilities that are not particularly important to you?
When we are lying on our deathbeds, we will not be wishing we spent more time checking email or running errands. We'll wish we watched more sunsets, spent more time with our children, danced during rain showers, and truly engaged in and enjoyed life. Yet many of us spend a lot of time—too much time—on activities (or relationships) we do not value or consider a priority.
It is too easy to get caught up in the rat race of life. We rush to get ready in the morning, rush to work, stay busy throughout the day, then rush pick up the kids, make dinner, check email, and then collapse in bed and get ready to do it again the next day. As a result, people are more anxious, over-committed, and persistently overwhelmed. And they have less time and energy for relationships and interactions that are most important to them.
Life does not have to be this way. You can make changes so that your life's priorities and values are aligned with how you actually spend your time. For many people, this might sound wonderful but idealistic and unrealistic. So let's break it down into manageable pieces.
First, write a list of the people, things, and responsibilities that are important to you. List what you care about and truly value. Answer the following questions to create the list:
Who is important to you?
What is important to you?
How do you enjoy spending your time?
Who do you enjoy spending time with?
Before rearranging your schedule and vowing to make a complete overhaul in your life, ask yourself, "Am I willing to make the necessary changes and sacrifices to align my schedule with my priorities?" Recognize that change is not easy and it will require you to give up something. To create lasting change, you must be honest with yourself about your willingness to make change and let go of some of what you presently do.
You should also be clear with yourself about what you are willing to change or sacrifice. You cannot have 100% of everything you want in a given moment. It is impossible to devote 100% of your time to your family, 100% of your time to your career, and 100% of your time to your friends simultaneously. You can devote part of yourself and part of your energy to various people and activities. What parts are you willing to give up or sacrifice to give your priorities, your important relationships, the attention they require?
Now that you know what and who is important to you, what you are willing (or not willing) to change, and what sacrifices you will make, you can return to your calendar. Removing some appointments and responsibilities is the only way to effectively add what is most important to you. We have only 24 hours in each day; how will you spend your time?
Share your story with us in the comments section below! How have you made time for the priorities in your life? How do you struggle to do so? Let's learn from each other.

The preceding article was solely written by the author named above. Any views and opinions expressed are not necessarily shared by GoodTherapy.org. Questions or concerns about the preceding article can be directed to the author or posted as a comment below.