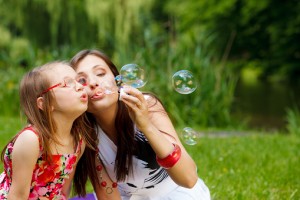 Mia was a sweet, blonde, blue-eyed 6-year-old just finishing first grade when I met her. She was a bit shy but full of smiles. She was eager to draw with the markers and paper I had laid out on the table. Mia drew a cheerful, brightly colored rainbow. Initially, there wasn't a hint of anything wrong. She was just as her parents Emily and Adam had described her when I had met with them the week before. But there was something wrong. Mia had cystic fibrosis, and life had recently become complicated for her and her parents.
Validating Your Child's Pain Without Catastrophizing
Lately, her parents explained, Mia had been asking repeatedly to stay home from school, saying each time she didn't feel well. Adam and Emily were dedicated parents, keenly attuned to all their children's needs. It was already the end of the school year, and Mia had consistently excelled in all her schoolwork. She had three close friends in her class. Her teacher was especially kind. Mia seemed fine to Adam and Emily.
really
not feeling well because of her medical condition, or is she just using this as an excuse to get me to agree to let her stay home from school?" Emily asked.
This is a common dilemma for parents of children with chronic illness, whether the child has cystic fibrosis, asthma, colitis, juvenile rheumatoid arthritis, diabetes, seizure disorder, or one of a whole host of other issues.
As I explained to Emily and Adam, we will never really know if a child is truly in pain. There is no conclusive lab test for chronic pain. There is no way to "prove" your child is feeling well. There can be a very heavy price to pay when, as a parent, you go out on that fragile limb of trying to convince your child they feel well when they say they don't.
Ultimately, we need to accept what the child says as truth—their truth—and move on. Children with chronic illness fare best when their parents are supportive and calmly validate the challenges and pain they experience without catastrophizing or delegitimizing their experiences.
Was Your Child 'Faking' or Just Good at Self-Care?
Chronic pain can ebb and flow. What determines the intensity of pain is a complex a set of factors. Just because your child seems to feel better when watching a favorite TV show doesn't mean your child was "faking" not feeling well. Actually, kids may be smarter than adults at figuring how to use a key tool in successful pain management: distraction. TV shows, movies, video games, or engaging in social media may be successful pain-management strategies for your child. Therefore, a reprieve in pain by engaging in screen time doesn't necessarily "prove" your child didn't feel well in the first place; it may just be proof that your child has identified some successful tools for managing pain and discomfort.
Validating Your Child's Experience but Disagreeing with the Conclusion
On the other hand, even if you accept that your child doesn't feel well, it doesn't mean you have to accept your On the other hand, even if you accept that your child doesn't feel well, it doesn't mean you have to accept your child's conclusion that they shouldn't go to school.child's conclusion that they shouldn't go to school. Parents can still point out the advantages of going to school; for example, "So-and-so is looking forward to playing with you at recess."
You can create age-appropriate enticements for your child to go to school: perhaps a special treat in their lunchbox or a special activity after school. Of course, there are also times when parents need to remind their child sometimes we need to carry on with our responsibilities (such as going to school or work) even when we don't feel 100%.
What Else Might Be Going On?
How is your child functioning at home, school, with friends, at after-school activities, sports teams, dance class, or youth groups? Might there be something else bothering your child? Did something troublesome happen on the school bus, in the classroom, or with you?
If your child still insists they don't want to go to school on the grounds they don't feel well and you've evaluated the entire context for the request, you may come to the conclusion that the advantages of your child missing school that day outweigh the disadvantages.
You Are Your Child's Security Net
It really boils down to trust. Children who have a chronic illness need to be able to trust their parents when they say they are not feeling well. Your relationship with your child is more important than a missed day of school or even several missed days of school. Open communication between you and your child is the basis for the "teamwork" critical to optimizing your child's health. As parents, your unconditional support of your child is the very fiber that makes up the security net protecting your child as they face adversity and manage their physical pain.
Pain-Management Techniques You Can Try at Home
Educate yourself on pain: This 10-minute video, Understanding Pain – And What's to Be Done About It, from the German Paediatric Pain Centre, is great for helping older children, adolescents, and parents understand pain and how to manage it.
Guide your child in activities that require deep breathing: This might include blowing bubbles (liquid bubbles or with bubble gum), singing, blowing pinwheels, harmonicas, or birthday horns.
Laughing induces deep breathing: Watch an age-appropriate comedy show or movie together or read a joke book together.
Talking can help regulate breathing: For this activity, the topic doesn't matter. You can even talk to yourself!
Music: Sing, make it, or listen to it to encourage distraction from pain.
Exercise: Walking, swimming, or other exercise, if not contraindicated because of your child's physical condition, can be beneficial for managing pain.
Introduce your child to yoga: Yoga for kids, if not contraindicated because of your child's physical condition, can be beneficial for both fitness and pain management.
Reference:
Langer, S. L., Romano, J. M., Levy, R. L., Walker, L. S., & Whitehead, W. E. (2009). Catastrophizing and parental response to child symptom complaints. Children's Health Care: Journal of the Association for the Care of Children's Health, 38(3), 169–184. Retrieved from http://doi.org/10.1080/02739610903038750

The preceding article was solely written by the author named above. Any views and opinions expressed are not necessarily shared by GoodTherapy.org. Questions or concerns about the preceding article can be directed to the author or posted as a comment below.