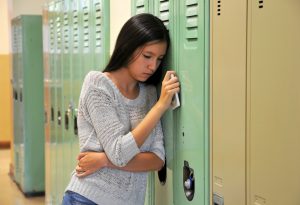 The results of a new study published in the journal Social Psychology of Education suggest being bullied in childhood can have a significant impact on mental health in college, especially for females. This finding could be an indication that emotional damage from childhood bullying can last much longer than previously believed.
Childhood bullying and college student mental health are two independently important topics in public health. Bullying can cause mental health issues that persist into adolescence, but evidence for a longer-lasting influence has started to emerge. College student mental health is widely acknowledged as a mental health research priority as service centers are often overtaxed. The possibility that these issues intersect presents both challenges and opportunities for impending studies and approaches to treatment.
Long-Term Effects of Bullying
The investigation included 482 undergraduate students, 65% of whom were female. They completed a packet of surveys and questionnaires for measures related to current mental health along with rates of bullying and other forms of abuse experienced as a child.
An analysis of the findings showed reports of childhood bullying victimization were a significant predictor of depression, anxiety, and posttraumatic stress (PTSD) in college students. Females reported higher rates of these mental health issues in general than males.
The association was even stronger when bullying was paired with reported experiences of other forms of child abuse. Experience of bullying surpassed exposure to community violence as the strongest predictor of PTSD.
Prevention for Containment of Childhood Bullying
Childhood bullying is being researched more often as a contributing factor to mental health issues that persist into adulthood, often requiring the use of mental health services. Another newly released study found an association between bullying victimization and increased use of mental health services (but not necessarily diagnoses) up to age 50. Researchers encourage the continued development of strong prevention and support measures to reduce or contain the issue, especially as cyberbullying becomes more prevalent.
A recent evaluation of Iowa's anti-bullying legislation, which was enacted in 2007, had mixed results. Some forms of bullying declined, but findings from a study published in the journal Injury Epidemiology showed instances of cyberbullying continue to increase despite the legislation. Nearly half of the 253,000 participating students reported being victimized.
References:
Auerbach, R. P., Alonso, J., Axinn, W. G., Cuijpers, P., Ebert, D. D., Green, J. G., … & Nock, M. K. (2016). Mental disorders among college students in the World Health Organization World Mental Health Surveys. Psychological Medicine, 1. doi:10.1017/S0033291716001665
Espelage, D. L., Hong, J. S., & Mebane, S. Recollections of childhood bullying and multiple forms of victimization: correlates with psychological functioning among college students. Social Psychology of Education, 1-14. doi:10.1007/s11218-016-9352-z
Evans-Lacko, S., Takizawa, R., Brimblecombe, N., King, D., Knapp, M., Maughan, B., & Arseneault, L. (2016). Childhood bullying victimisation is associated with use of mental health services over 5 decades: a longitudinal nationally-representative cohort study. Psychological Medicine. Retrieved from http://eprints.lse.ac.uk/67316/
Lukits, A. (2016, September 5). Anti-bullying legislation has mixed results. Retrieved from http://www.wsj.com/articles/anti-bullying-legislation-has-mixed-results-1473084003
University of Illinois at Urbana-Champaign. (2016, September 1). Wounds from childhood bullying may persist into college years, study finds. Retrieved from www.sciencedaily.com/releases/2016/09/160901135546.htm

The preceding article was solely written by the author named above. Any views and opinions expressed are not necessarily shared by GoodTherapy.org. Questions or concerns about the preceding article can be directed to the author or posted as a comment below.