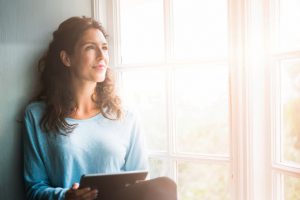 When my grandmother was growing up, she had no clue what her next-door neighbors ate for breakfast or where they went on vacation—unless, of course, they went out of their way to tell her. Modern technology has made our lives not only much more transparent, but easier in many respects. We are able to order goods and services without having to stand in line or even talk to another human being. We are able to quickly obtain information about almost anything. We are able to instantly connect with millions of people from all over the world, including potential romantic prospects.
Of course, technology—particularly in the form of social media—has also invited a greater degree of comparison and envy into our daily lives. My grandmother might have compared herself with those around her, people she actually knew and saw. In today's world, we routinely compare ourselves to people we don't know well, if at all. All we have to do is go on Facebook, Instagram, or any number of other platforms where people tend to share their happiest moments and most notable achievements.
This time of year, we tend to see a lot of engagement announcements and Valentine's plans. While these are lovely ways for people in relationships to share their happy news, they may also invite sadness, anxiety, and comparison among those who are not in a happy relationship and would like to be in one. Dating websites have attempted to address this by creating a space in which the busy single moms and dads, the overworked professionals, and the introverts, among others, can connect and attempt to find love. Still, the struggle is real for many uncoupled people.
Throughout my years as a mental health professional, I have found that the following four questions can serve as a guide in assisting men and women with romantic pursuits. The intention of these questions is to provide you with some clarity and hopefully decrease any anxiety you may feel about your relationship status or the dating process.
1. What are your intentions for wanting to date right now?
Being honest with yourself can save you time and energy. Our motives for dating change with our life experiences and are sometimes even impacted by our age. Before going on a date or even looking for a potential partner, ask yourself what your intentions are. Are you wanting to date for the sake of dating? Are you being pressured by societal and cultural norms? Do you feel you are being pressured by friends and family? Are you scrolling through your social media feeds, making comparisons, and feeling left behind? What, exactly, does it mean for you to be left behind? Have you placed yourself on some sort of timeline? What are your short- and long-term goals? How will finding a partner at this time impact your life?
Tip: A pros-and-cons list of being single versus being in a relationship can be a simple and helpful tool.
2. What does love mean to you?
There is a big difference between love and lack of emotional responsibility. In other words, love will not provide you with a "get-out-of-jail-free card." Even if you marry someone or end up in a satisfying relationship, you will still have to face life on life's terms. Your partner may be there to hold your hand, but at the end of the day you have to face your own challenges. Searching for love is different than searching for a hero.
Tip: Think about the meaning of love in your family of origin. What did it mean to love someone? How did love manifest or become apparent to you.
3. Are you ready to be truly intimate with someone?
Intimacy goes beyond getting naked and having sex. Intimacy is the ability to be yourself.
The real question is this: Are you ready to be intimate with yourself? Intimacy goes beyond getting naked and having sex. Intimacy is the ability to be yourself. We all have areas in our lives that need improvement. The goal is to be willing to tolerate uncomfortable feelings, to learn to accept yourself for who you really are. No one is perfect, and you need to remind yourself of that. If you accept yourself fully, you may be able to present yourself more authentically to others, including romantic partners.
Tip: List your favorite qualities in a person. Create a separate list for qualities you would like to obtain or improve. Use this insight in charting a course for what you want, both for yourself and for a potential partner.
4. What "gifts from the past" are occupying your "suitcase"?
Think of a suitcase that is filled up with all your past experiences and is continuing to be filled with new experiences. We all have these suitcases. I like to refer to unresolved past issues as "gifts from the past." Each gift represents what you need to focus on next in order to grow and heal emotionally. Often, our gifts from the past have a common theme and are triggered by an interaction or a thought. Our job is to start identifying our feelings and thoughts and become more aware of our reactions. If our reaction to a situation is out of proportion, it may be a sign that a gift from the past is being triggered. We must be kind and gentle with ourselves when this happens. Being aware of your gifts from the past can help you maintain your relationships with others, especially your romantic relationships. A healthy partner will support you as you navigate your way through your suitcase, but they will not unwrap your gifts for you.
Tip: One tool for self-reflection is a daily journal. Journaling may allow you to turn inward and get in touch with your raw and unfiltered feelings.
Consider these questions and some of the tips provided as you navigate your feelings regarding dating. When you stop comparing yourself to others and start focusing more intently on who you are and what you want, the result may be a more fulfilling relationship with yourself that sets the stage for more fulfilling relationships with others.
© Copyright 2017 GoodTherapy.org. All rights reserved. Permission to publish granted by Ida Khamesy, MA, LMFT
The preceding article was solely written by the author named above. Any views and opinions expressed are not necessarily shared by GoodTherapy.org. Questions or concerns about the preceding article can be directed to the author or posted as a comment below.