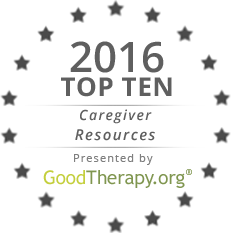 Almost everyone knows someone who is a caregiver or who has served in a caregiving role for someone else. Data compiled by the Centers for Disease Control and Prevention suggest that more than one in five households in the United States—home to more than 34 million unpaid caregivers for people age 18 or older—is actively affected by caregiving responsibilities at any given time.
Whether providing care for an aging loved one or for a person with a chronic illness or disability, the awesome (and often thankless) responsibility of caregiving can take a major toll on a person's mental health. According to the American Psychological Association, caregivers commonly report depression, anxiety, and a range of subclinical stresses—from guilt to worry to ambivalence about care. Then, of course, there are the potential physical health problems associated with caregiving, including stress-related illness, fatigue, and impaired sleep. It's a vicious cycle: many caregivers say these conditions in turn affect their ability to provide quality care.
But the issues many caregivers face aren't limited to psychological or physical health concerns. Many caregivers can't afford to hire professional help and thus are essentially on constant duty, some without any support within the family system. Some have no choice but to quit their jobs or scale back their work hours, adding to their financial strain. With little time for self-care or personal pursuits, relationships and romantic prospects commonly suffer.
Indeed, the family dynamic as a whole may be adversely affected, as time and energy that might otherwise be spent with children or other family members is redirected toward the person needing care. It may come as no surprise, then, that many caregivers develop resentment over time as their caregiving efforts come at the expense of their own quality of life.
GoodTherapy.org believes connecting caregivers to support is essential, as so many facets of their lives and well-being are impacted by their tireless work. In that spirit, we have compiled our top 10 resources of 2016 for caregiver issues. Presented in no particular order, these resources were selected based on content, quality, and presentation.
Have a favorite website dedicated to caregiver issues and don't see it on our list? Nominate it here.
References:
Common caregiving problems. (n.d.). American Psychological Association. Retrieved from http://www.apa.org/pi/about/publications/caregivers/practice-settings/common-problems
Family caregiving: The facts. (2011, September 7). Centers for Disease Control and Prevention. Retrieved from https://www.cdc.gov/aging/caregiving/facts.htm

The preceding article was solely written by the author named above. Any views and opinions expressed are not necessarily shared by GoodTherapy.org. Questions or concerns about the preceding article can be directed to the author or posted as a comment below.