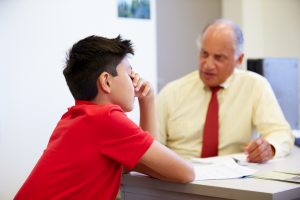 Immigration policy may affect the classroom behavior of U.S.-born students of Latin descent, according to a study published in the journal Ethnic and Racial Studies. The study looked at how awareness of a controversial Arizona immigration bill affected classroom behavior in male and female students. The study found male adolescents who were aware of the controversial legislation were more likely to be disruptive in the classroom.
Males of Latin descent have the highest high school dropout rate, according to the U.S. Department of Education.
How Immigration Policy Affects Behavior
The study examined how awareness of Senate Bill 1070, not the law itself, affected classroom behavior. SB 1070 required police to verify the immigration status of arrested or detained people based on "reasonable suspicion." Critics said this supported racial profiling. The Supreme Court declared the most controversial parts of the law unconstitutional. It was never fully enforced. This suggests the policy and social implications of legislation can change behavior even when that legislation is not enforced.
The study looked at 689 male and female Arizona middle schoolers of Latin descent. They gathered data on the students at two separate intervals, one year apart. Using a multiple regression analysis, they looked at how awareness of SB 1070 affected classroom behavior.
academic performance
and might be a factor in the high dropout rate among male students of Latin descent.
The study's authors suggest students who view legislation as discriminatory may change their behavior in response to this discrimination.
Immigration Policy and Mental Health
Other studies support the link between immigration policy and changes in behavior. A 2014 study, for example, found fear of police may prevent people of Latin descent from calling 911 when they have cardiovascular symptoms. A 2015 study found anti-immigration policies can undermine access to health care services, including mental health care.
References:
Arizona's SB 1070. (n.d.). Retrieved from https://www.aclu.org/feature/arizonas-sb-1070
Martinez, O., Wu, E., Sandfort, T., Dodge, B., Carballo-Dieguez, A., Pinto, R., . . . Chavez-Baray, S. (2013). Evaluating the impact of immigration policies on health status among undocumented immigrants: A systematic review. Journal of Immigrant and Minority Health, 17(3), 947-970. doi:10.1007/s10903-013-9968-4
Santos, C. E., Menjivar, C., Vandaalen, R. A., Kornienko, O., Updegraff, K. A., & Cruz, S. (2017). Awareness of Arizona's immigration law SB1070 predicts classroom behavioural problems among Latino youths during early adolescence. Ethnic and Racial Studies, 1-19. doi:10.1080/01419870.2017.1311021
Study: Awareness of controversial Arizona immigration law influenced male students' classroom behavior. (2017, May 22). Retrieved from http://today.ku.edu/2017/05/19/study-awareness-controversial-arizona-immigration-law-influenced-male-students-classroom
© Copyright 2017 GoodTherapy.org. All rights reserved.
The preceding article was solely written by the author named above. Any views and opinions expressed are not necessarily shared by GoodTherapy.org. Questions or concerns about the preceding article can be directed to the author or posted as a comment below.