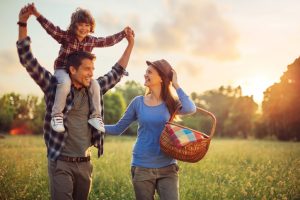 April is National Autism Awareness Month, with groups such as Autism Speaks (AS) advocating for more research into a "cure" for autism. However, many autistic adults have urged a boycott of the awareness campaign. They say AS and similar organizations increase autism stigma, and autism is not something that demands a cure. Rather than raising awareness, many autism advocates prefer to celebrate autism with Autism Acceptance Month.
The debate is part of a larger dispute between those who support the search for a cure for autism and those who embrace autism as a brain variation worthy of celebration.
#Lightitupblue or #Redinstead? Autism as an Identity
Autism Speaks has encouraged autism advocates to "light it up blue," by placing a blue light outside their homes in April. Opponents of the movement have adopted the slogan "red instead," suggesting red as a symbol of autism acceptance.
Many autism advocates say autism organizations have excluded the voices of autistic people. This exclusion, advocates say, removes the perspective of autistic people from strategies designed to benefit them. Autism Speaks had no autistic board members for a decade. In 2013, the organization's first autistic board member resigned, citing stigmatizing language in fundraising campaigns as the reason for his resignation.
Leah Ashe is a parent to two autistic boys—a 12-year-old and a 10-year-old.
diagnosis
, I heartily supported AS, being desperate for
hope
and support," Ashe said. "I learned quickly that isn't their purpose. I despise that the message of Autism Speaks is one of needing to fix or prevent
children
like mine from being born. And the fact that they don't invite a significant contribution from individuals with autism on their board just confirms for me that they do not see individuals with autism as having valuable contributions to make."
According to the Autism Self Advocacy Network (ASAN), there is a clear divide between advocates who see autism as an alternative way of thinking and being and those who see it as a barrier or disability. Members of the first group usually say they see autism as an identity, recommending language calling a person autistic. People who see autism as a barrier, by contrast, tend to endorse people-first language. They usually see autism as a stigmatizing label and just one component of a person's identity. ASAN continues to encourage policymakers, researchers, and medical providers to listen to the needs of the autistic community and treat autism as an inherent part of a person's identity.
The Controversial Search for an Autism Cure
The search for an autism cure has been relatively uncontroversial, but ASAN and other autism advocates say this search is misguided. They understand autism as a neurological variant with benefits and drawbacks, not a disease or something that should be cured.
Many people further argue that the search for a cure has inhibited other efforts. They point out that Autism Speaks spends only a sliver of its budget on family services that support autistic people and their families, offering little support.
Mental health experts increasingly promote an acceptance-based approach to autism.
Sarah Swenson, MA, LMHC, is a Seattle, Washington, therapist who specializes in counseling couples in which at least one partner is on the autism spectrum. She says the issue of neurodiversity frequently arises in her work with couples, and seeing autism as a unique way of thinking instead of a pathology can help both members of a couple.
"Both individuals initially want to know whether autism can be cured, or whether the person with autism can change and become more neurotypical," Swenson said. "These couples struggle in ways different from other couples, and it is important to recognize the neurological differences that set the stage for these struggles. What would be the point in pathologizing autism? How could that possibly help an individual or a couple? Understanding the differences and helping resolve problems that arise so that anxiety and stress are reduced helps everyone live better and in greater harmony at home and at work. It does not cure anything, nor does it attempt to do so. There is nothing to be cured in the first place."
Not all autism advocates agree with this approach. Parents of autistic children often point to the barriers they and their children face. They say some advocacy groups misrepresent the severity of autism and the extent to which it limits some autistic people. Some autistic people may never speak, live independently, or be able to be alone.
What Is Autism Acceptance Month?
Opponents of Autism Awareness Month have dubbed April Autism Acceptance Month. According to the Autism Acceptance Month website:
Autistic people should be able to speak for themselves.
Autism is just a variant in the normal human experience.
The world needs many different experiences and minds.
Ashe said she now sees her sons' autism as valuable, not something demanding a cure.
"Their autism gives them a perspective and life experience unique from neurotypical individuals, and it's a valuable contribution to our world," she said.
Heather Comprosky, a 33-year-old autistic woman, is the founder of Autastic Me. Comprosky considers autism her superpower and echoes the desire for acceptance and diversity rather than a cure.
"When I first began researching autism, I was overwhelmed by the sense that I was broken and needed to be fixed," Comprosky said. "Most of the information that was prevalent was depressing and filled with a lot of negatively charged rhetoric. After stumbling upon the neurodiversity movement, it became much easier to accept myself for all that I am. At the end of the day every human wants to be accepted."
References:
About autistic self advocacy network. (n.d.). Retrieved from http://autisticadvocacy.org/about-asan
Autism speaks. (n.d.). Retrieved from https://www.autismspeaks.org/wordpress-tags/autism-awareness-month
Chavez, H. (2017, April 1). 'Light it up blue?' Autistic adults suggest red instead. Retrieved from http://www.inquisitr.com/4109798/light-it-up-blue-autistic-adults-suggest-red-instead
Lutz, A. S. (2013, January 16). Controversy and curious case histories in the autism community. Retrieved from http://www.slate.com/articles/health_and_science/medical_examiner/2013/01/autism_neurodiversity_does_facilitated_communication_work_and_who_speaks.html
Picciuto, E. (2015, February 25). They don't want an autism cure. Retrieved from http://www.thedailybeast.com/articles/2015/02/25/they-don-t-want-an-autism-cure.html
Why I am against Autism Speaks (and you should be, too). (2014, June 20). Retrieved from https://thecaffeinatedautistic.wordpress.com/2013/03/05/why-i-am-against-autism-speaks-and-you-should-be-too-2
© Copyright 2017 GoodTherapy.org. All rights reserved.
The preceding article was solely written by the author named above. Any views and opinions expressed are not necessarily shared by GoodTherapy.org. Questions or concerns about the preceding article can be directed to the author or posted as a comment below.