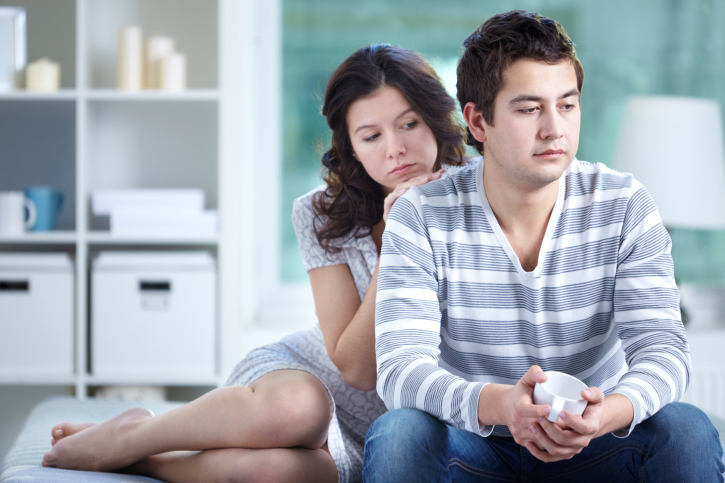 While both men and women may endeavor to support their partners during times of stress, women's efforts may be more effective, a study published in Psychological Science has found. The research was led by Thomas Bradbury, co-director of the Relationship Institute at University of California, Los Angeles. Bradbury and his colleagues say men may be more likely than women to react to their partner's stress with criticism.
Who Provides Better Support: Men or Women?
Bradbury and his team recruited 189 heterosexual couples in long-term relationships. All couples reported being "highly satisfied" with their relationships and had been together an average of four years. Men had an average age of 28, and women had an average age of 26.
To explore how the couples provided support to one another during times of stress, researchers divided them into three groups. In the first group, the man faced a stressful situation; in the second group, the woman was stressed; and in the third group, both partners were exposed to stress. Researchers used a mock job interview to induce stress. Then, researchers asked the partner exposed to stress to count down from 2,043 as quickly as possible in increments of 17. Each time participants made a mistake, researchers asked them to start over. During this experiment, each participant remained with his or her partner as researchers filmed their interactions.
cortisol
—a
hormone
the body releases in response to stress. Both men and women had cortisol levels that suggested equally high levels of stress.
Researchers recorded how participants talked about the stressful moment, noting whether they adopted a matter-of-fact approach by summarizing the experience ("I had to complete math problems"), or an emotional one by commenting on the effects of the experience ("I'm terrible at math! I hate interviews!").
They also recorded the other partner's response to his or her partner exposed to stress, noting whether the response was negative or positive. Positive responses were supportive in nature, such as praising the partner. Negative responses—such as saying the partner overreacted to the stressful situation—either ignored or diminished the other partner's feelings.
Researchers also assessed nonverbal communication between the partners, labeling it as either negative or positive. Positive reactions included behaviors such as hugging, while negative behaviors included signals such as avoiding eye contact.
How Stress Can Affect Relationships
The analysis of participants' behavior revealed that both men and women who were not stressed offered positive support to their stressed partners. But when men were stressed, they made more negative comments and had more negative reactions than women. Stressed women continued to offer positive support to their partners.
Bradbury and his team say their research highlights the need for both men and women to recognize how stress might affect behavior. Because managing stress together can be a key task of relationships, finding positive ways to handle stress could improve romantic partnerships.
References:
Bodenmann, G., Meuwly, N., Germann, J., Nussbeck, F. W., Heinrichs, M., and Bradbury, T. N. (2015). Effects of stress on the social support provided by men and women in intimate relationships. Psychological Science. doi:10.1177/0956797615594616
Jacopian, S. (2015, September 10). Women are better at giving emotional support when stressed. Retrieved from http://www.redorbit.com/news/health/1113408693/women-are-better-at-giving-emotional-support-when-stressed-091015/
© Copyright 2015 GoodTherapy.org. All rights reserved.
The preceding article was solely written by the author named above. Any views and opinions expressed are not necessarily shared by GoodTherapy.org. Questions or concerns about the preceding article can be directed to the author or posted as a comment below.