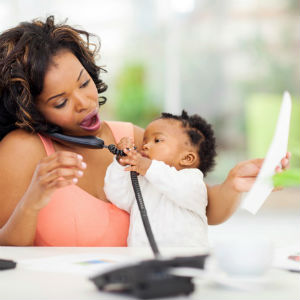 Psychologist Sherrie Bourg Carter, PsyD, author of High-Octane Women: How Superachievers Can Avoid Burnout, defines "high-octane women" as high achievers who are driven to excel. According to Dr. Carter, such women have boundless energy, big dreams, and enormous enthusiasm for what they do.
In essence, they enjoy the process of setting and achieving goals. They tend to perform well in almost every area of their lives, believe in a job well done, and expect a lot out of themselves and others. High-octane women live life full-on. They are great sprinters but are often poor long-distance runners. They operate like Superwoman, forgetting they are human.
In her book, Dr. Carter points out that this type of woman is susceptible to burnout. The same is true of postpartum depression. High-achieving women are more vulnerable to postpartum depression. Here's why.
1. High-Octane Women Have High Standards
High-achieving women have high standards in almost every area of their lives. If they bother to do something, they believe in doing it very well (or the "right way"). For instance, a high-octane career woman may have a graduate degree and a history of frequent promotions. A high-octane homemaker may volunteer at the local school and have an organized freezer with color-coded labels.
Then comes baby! And many things go "wrong": breastfeeding is hard, and babies cry, have reflux, or don't sleep. And nothing gets done around the house. All of a sudden, the high-achieving woman has to forget about keeping up with the office; she doesn't even have time to shower or eat!
Then, when the frenzy of a newborn begins to wane, high-octane women want to do mothering well. This might mean making their own organic baby food, taking their baby to mommy-and-me classes, or giving their little bundle of joy plenty of interactive play and loving comfort. At the same time, high-octane women do not lower their expectations in the other areas of their lives: they still expect to be top performers at work, see their friends, be good daughters and wives, keep their house clean, and continue their volunteer work.
When all that isn't possible, their first thought isn't, Wow, I think my expectations are unrealistic. Rather, it's: What's wrong with me that I can't keep up anymore?
2. High-Octane Women Rarely Receive Help
The second reason high-achieving women are more vulnerable to postpartum depression is that they often don't receive help. This happens for three reasons. First, high achievers don't often ask for help; when they do, it tends to sound like an order (which makes others less inspired to help). They generally don't say, "I feel so overwhelmed; I don't know how I'll manage to get the laundry done today." Instead, they typically say, "Can you do the laundry? You're sitting there doing nothing, and I'm doing everything."
The second reason they rarely receive help is that they are generally so good at getting everything done that people around them don't know they need help. My therapist said to me many years ago, "I'm not really sure why you're coming to therapy. I don't feel I'm very useful to you." I was surprised by that comment. He was very helpful to me! How could he not know that? In time, I realized that I tend to give off a vibe that I don't need help, so people don't offer. This is typical of high-functioning women.
And finally, high-octane women like things done their way and to their standards. They tend to correct, redirect, or criticize when someone does take a task off their plate. Often, they do this under the belief that they are helping or teaching. But for the recipient, it feels like criticism and makes them less likely to help. And without help from others, caring for a baby is an overwhelming task.
3. High-Octane Women Don't Know They Are 'High-Octane'
One of the traits I've noticed in both men and women who tend to be driven and goal-oriented is that it's hard for them to understand others who are not this way. They assume this is the "normal" way to be. But it isn't. It's an unusually high level of functioning. Don't get me wrong; it has many advantages. Big results are accomplished by people who dream big and execute well. These folks build buildings and start companies. But having a baby changes that for a while—generally more so for women, but for any new parent who wants to be engaged and parent well.
High-octane women often have difficulty in the postpartum adjustment period because it's likely the first time they are not able to meet their own standards. This comes as a surprise to many, and most women tend to respond by becoming self-critical. Healthy postpartum adjustment comes from realizing that it's all right to do less for a while. In fact, I tell people in therapy that if you keep the baby alive in the first six months, you're in pretty good shape! It's a bit of an exaggeration, but it gets the point across.
When our baby was six weeks old, I remember telling my husband that I felt so inadequate because I couldn't seem to get anything done. It made no sense to me that a woman who was always able to accomplish so much in the past now seemed unable to keep up. He said, "At this stage, I think if we do one thing a day, that's pretty good. Today, we made it to the store to buy more diapers. It was a successful day."
If you are a high-octane woman, you are likely to be taken by surprise by how few of your previous tasks you can accomplish after having a baby. In time, you will return to some normalcy. But for now, some days, your biggest achievement will be taking a shower or buying diapers. It's totally normal and completely OK. You're already a great mom; your caring and passionate personality will inspire your children. For now, just relax and enjoy these precious moments. They are your baby's way of teaching you that being is just as valuable as doing.
© Copyright 2014 GoodTherapy.org. All rights reserved. Permission to publish granted by Chantal Marie Gagnon, PhD, LMHC, Postpartum Depression Topic Expert Contributor
The preceding article was solely written by the author named above. Any views and opinions expressed are not necessarily shared by GoodTherapy.org. Questions or concerns about the preceding article can be directed to the author or posted as a comment below.