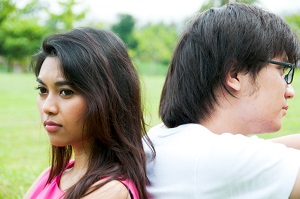 Anger is not a sign that your relationship is doomed to fail.
Anger is an emotion that we all experience, and it signifies that something has to be done. Anger makes you aware that there is a problem. How you deal with your anger can become a big part of the problem. For some couples, anger can make it nearly impossible to figure out what the problem is and how to fix it.
For most couples, anger itself is not the problem. What becomes problematic is how partners deal with their anger and how well they deal with their partner's.
Dealing with Your Anger
Take time out to calm yourself enough to think about what you are angry about.
Own your anger. Remind yourself that your anger belongs to you and that it is telling you something about yourself. Anger is often directed at your partner, but it's always more about you than about your partner. You can have valid complaints about your partner's actions, but the emotion is yours.
If the anger is your own, then it follows that you are in control. Accept that you are in control. Your next step is to think about what your anger is about. Again, try to focus on yourself, not your partner's wrongdoing. I'm not saying that your partner is right. I am saying that you need to focus on yourself so you can express yourself to your partner, allowing you to work together to find solutions.
See your thoughts and emotions as your perspective, and at the same time try to keep in mind that your partner has his or her own perspective that will always be different from yours—after all, you are two different people with different experiences. Thinking like this will help you stay calm through the process of dealing with your emotions.
What are your angry thoughts? Try to follow your thoughts to get a full picture. It may help to write down what, exactly, happened that led to you feeling angry.
Consider what other emotions are involved. Anger is a secondary emotion that often hides the primary or softer emotions. Examples of primary emotions are feeling sad, afraid, hurt, or rejected. Anger is often a defense against feeling vulnerable. Vulnerability is often seen as weakness; many of us were brought up to ignore vulnerabilities and push through problems.
Anger can feel like relief as emotional energy is released and vulnerabilities are pushed away from awareness. Being angry at your partner is sometimes easier than facing fear of rejection. However, the consequences of reacting with anger in a relationship can be severe. We know this at work; screaming at colleagues is most likely going to get us fired.
Dealing with Your Partner's Anger
Dealing with your partner's anger is a totally different process. I suggest that you help your partner calm down and go through the process described above.
Your part is to be supportive, listen actively, and ask clarifying questions. (See other articles I have written on The Good Therapy Blog about communicating effectively and especially active listening.)
Remind yourself that your partner is coming from his or her perspective and personal experiences. Your own perspective and feelings are not important at this time. If you are able to do this for your partner, I can assure you that you will see big, positive changes in your relationship. Perhaps your partner will initially react with surprise and even anger that you are changing your steps of the dance you have danced together for so many years of fighting. However, if you keep up your end of the relationship and focus on being the best partner you can be, your partner will eventually follow and give you the same courtesy when you are upset and need support.
In an ideal world, partners will take turns being upset. In the real world, we often get upset at the same time. This is where repair work becomes important. Practice apologizing, stay calm, and remind yourself why you are in the relationship and that you are in control of how you express your emotions.
© Copyright 2013 GoodTherapy.org. All rights reserved. Permission to publish granted by Irene Hansen Savarese, LMFT
The preceding article was solely written by the author named above. Any views and opinions expressed are not necessarily shared by GoodTherapy.org. Questions or concerns about the preceding article can be directed to the author or posted as a comment below.