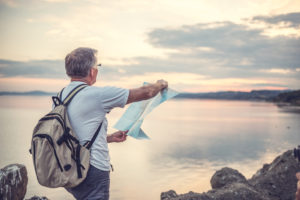 Working to be happier can be a significant time commitment. According to four trials published in Psychonomic Bulletin & Review, the time constraints of pursuing happiness may paradoxically make people feel less happy. The study says people on a quest for happiness often feel like they have less spare time. This time pressure can cause people to feel less happy.
How Happiness Affects One's Sense of Time
For the first trial, researchers recruited 113 participants from Amazon's Mechanical Turk. A 7-item scale assessed people's desire for happiness. This desire was measured by their agreement with statements such as, "To have a meaningful life, I need to feel happy most of the time." Researchers also surveyed participants about their perception of how much time they had. Individuals reported how much they agreed with assertions like, "Time is slipping away."
People who placed a higher value on happiness were more likely to think they had less time.
Seeking Versus Achieving Happiness
In the second trial, 117 undergraduate students completed a study about TV programming. Researchers instructed one group to feel happy while watching a movie. They told the other group to let any emotions arise naturally. Participants either watched a "neutral" movie about bridge construction or a "happy" slapstick comedy (Mr. Bean). The movies were the same length.
Those who watched the neutral movie while trying to be happy felt that the movie was shorter.
Yet people seeking happiness while watching a happy movie felt no time difference. These results suggest people who "achieve" happiness do not sense any time scarcity. People who are already happy seem to be protected from any negative effects of pursuing additional happiness.
When Happiness Feels Time-Consuming
The third trial recruited 300 Mechanical Turk participants. One group (the "high-time" group) read an article explaining how happiness is time-consuming. A second group (the "low-time" group) read an article claiming happiness doesn't take much time at all. A third group read no articles at all.
Both the "high-time" and control groups felt time was scarce. The researchers claim the groups responded similarly because the average person already believes happiness is time-consuming. The researchers then adjusted the data to merge the two groups. When they compared the merged group with the "low-time" group, those who believed happiness takes less time felt less of a burden on their schedules.
How One's Sense of Time Affects Happiness
For the fourth trial, researchers recruited 100 participants from Mechanical Turk. Participants were divided into two groups. One group (the "seeking happiness" group) listed 10 things they thought would make them happy. A second group listed 10 things they thought proved they were already happy.
People seeking happiness reported feeling less happy. They also felt they had less time. Those who listed reasons they were already happy felt they had more time and more happiness. The researchers found the perception of time as scarce directly predicted lower happiness levels.
What is the Path to Happiness?
These studies suggest the pursuit of happiness may not help people feel better. People who feel happiness is always far in the future may regret spending so much of the present chasing their goal. Mental health professionals may wish to be mindful of how time constraints, perceived or real, can impact happiness.
People who think of themselves as already happy may see an improved mood. Strategies such as keeping a gratitude journal can support feelings of satisfaction. Identifying good things about the present, the study says, can make any time spent pursuing happiness feel worth the price.
Reference:
Kim, A., & Maglio, S. J. (2018). Vanishing time in the pursuit of happiness. Psychonomic Bulletin & Review. Retrieved from https://link.springer.com/article/10.3758%2Fs13423-018-1436-7
© Copyright 2018 GoodTherapy.org. All rights reserved.
The preceding article was solely written by the author named above. Any views and opinions expressed are not necessarily shared by GoodTherapy.org. Questions or concerns about the preceding article can be directed to the author or posted as a comment below.