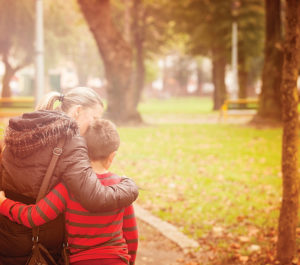 It seems we can barely go a week without hearing about another mass shooting in the United States. We are inundated with pictures and stories of innocent people wounded or killed. The news is constantly updating and telling the stories of the victims and their families. The horror is inescapable.
Violence is something many parents try to shield their children from. When violence makes the national news, it becomes all but unavoidable, and parents have to confront the terrible reality that there are people in this world who actively seek to harm others, including kids.
And then there's the onslaught of natural disasters, such as recent hurricanes Harvey and Irma, carving their own paths of destruction and death. I had the opportunity to volunteer with the Red Cross in southern Texas and saw firsthand the devastation that occurred physically and mentally. I saw families that had experienced the excruciating pain of losing everything, as well as children who lost toys and whose friends were scattered. These events take a huge emotional toll.
It may not be possible or even healthy to ignore the violence happening at our concerts, our churches, and even our schools. Just as there will always be earthquakes, fires, tornados, hurricanes, and other natural disasters, violence isn't going away. But what we say to the children in our lives about these events—and how we say it—matters.
Here are eight ways to help the children in your life cope when things in this world go terribly wrong and people are hurt or killed, be it through natural disaster or human violence.
Limit their exposure to news coverage. This may mean turning off the news, radio, or television, muting your computer/device, or not talking about it when they are around. This isn't to deny that a horrible event has happened, but rather to keep children from being overwhelmed. Like any disaster that receives media coverage, it can become emotionally exhausting and may incite unnecessary levels of fear and stress.
When violence occurs, much of the news focus is on the perpetrator(s). Talk to your children about the good people who helped—the police officers, teachers, bystanders. When you see these helpers on the news, point them out as appropriate. Talk about the rescue dogs, the neighbors, the volunteers who pitched in. Talk about what people did to make the situation better in some way and the measures that are in place to provide assistance, such as tornado/tsunami sirens and fire drills.
Make sure to tell your children that, while things like this are real, they don't happen often. It can be hard for a child to grasp the statistical improbability of tragedies such as school shootings, but give it your best shot.


It can be hard to feel like you have to be strong in the face of your own feelings and fears about what is happening.

Tell your child that you and many people in their life care about, love, and will protect them. Teachers, friends, neighbors, police, and firefighters are there to help. Reinforce that your child is not alone. If they feel unsafe, there are many people who they can talk to. Name some of them.
Talk about your own feelings, about how sad you feel. It may help normalize your child's experience and feelings. Be honest and age-appropriate, but try to keep the depth of emotion in check. If you feel like your own feelings are getting difficult to manage, seek help.
Ask your child about their thoughts and feelings. Don't wait for them to bring it up. Each child is different. One may wear their feelings on their sleeve and another may express their fear through outbursts or abnormal behavior. Do your best to be patient, empathetic, and kind.
Let your child know that all their feelings are okay. It's okay to be angry, scared, sad, or even relieved that this didn't happen in their school or community.
Find a way to take action. It could be donating to a program that helps prevent violence, writing to elected officials who represent you, or having a bake sale or lemonade stand. It could be something as simple as making a card or writing a poem. Finding tangible things to do can help kids feel more in control.
Sadly, large-scale tragedies are all but unavoidable. With 24/7 news coverage and the prevalence of smartphones, computers, and tablets among children and teens, parents can feel overwhelmed with how to manage the barrage of potentially worrisome information. It can be hard to feel like you have to be strong in the face of your own feelings and fears about what is happening.
In the end, it's a matter of doing the best you can with the knowledge and information you have. If you feel like you are having a hard time coping or being the parent your child needs in difficult times, find help—be it a counselor or therapist, religious leader, friend, or family member. Remember, it's okay to not have all the answers. It's okay to cry and be angry, frustrated, and horrified when awful things happen. Be gentle with yourself and you will likely find it's easier to be gentle and caring with others, including your children.

The preceding article was solely written by the author named above. Any views and opinions expressed are not necessarily shared by GoodTherapy.org. Questions or concerns about the preceding article can be directed to the author or posted as a comment below.