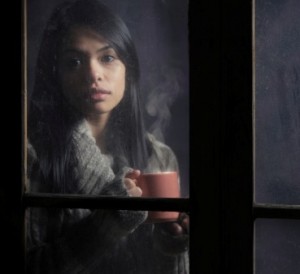 In my private practice, there is often an uptick of depression and resurgence of grief among people who seek my help between Halloween and Valentine's Day. It's not uncommon for people to feel the impact of seasonal changes brought on by less sunlight (medically called seasonal affective disorder), immobility due to snow/rain storms, remembering loved ones and times past with bittersweet wistfulness (perhaps due to death or divorce), financial pressures, and family obligations. Although some of the festivities and cheerful lighting can bring about a nice distraction, many report increased fatigue, stress, and blues around the holidays.
So what can you do if you are feeling the effects of seasonal stress? Here are some thoughts and tips to keep in mind:
Consider psychotherapy. It's normal and valid to feel grief cycling through around milestone occasions such as holidays and dates of special memories, even if the loss occurred many years ago. We remember people who are no longer with us who impacted our lives profoundly, and we mourn the losses of relationships that are no longer. Give yourself ample time and space to revisit grief as those feelings surface, and don't hesitate to seek psychotherapy if you find that those feelings persist or evolve into depression or anxiety. Grief and loss happen to all people at various times in their lives.
Focus on the future. Just as it's important to feel the tough emotions, it's equally pertinent to spend as much time having hope for the future as having thoughts about past losses. This time of year is a great opportunity to create a vision board (paint/draw/magazine photo collage) with images of where you wish to take your life in terms of goals related to health, wellness, livelihood, family/friendships/love relationships, spirituality, balance, travel, hobbies, etc. Spend as much time on this project as you like and, when complete, place your vision board in a space you can see daily, meditating on the possibilities for the future and beginning to put together an action plan with details about which goals to tackle now and in the near future.
Shake it up a bit. Traditional rituals can be a source of comfort or a reminder of emotional pain from days gone by. Try something new, like going away over the holidays to a tropical destination or a snow-covered mountain retreat. Even an overnight adventure in a new locale can do wonders for the soul.
Surround yourself with supportive people. Instead of catering to everyone else and their needs/demands over the holidays, be very clear about how you wish to set your boundaries in terms of availability for various gatherings, hosting, gift giving, etc. Know your limits, set your boundaries accordingly, and stick to them. You can't please everyone, but you owe it to yourself to please yourself.
Engage in self-care rituals. It's important to keep up with exercise, good nutrition, and excellent sleep hygiene, avoiding excess alcohol, sugars, etc. Exercise lifts those feel-good endorphins in the brain and keeps serotonin high. At least five hours of uninterrupted sleep (closer to eight is better) restores sleep cycles and keeps serotonin up. Keep hydrated as well. Get outside and get sunshine as much as possible. Studies show that a lack of sunlight can contribute to depression symptoms. For people living at more northerly latitudes, consider purchasing a full-spectrum light box to offset the lack of natural light.
Be grateful. Pay attention to what is going well in your life. There's likely a lot to be thankful for. When we are down or stressed, it's easy to overlook or dismiss that which is a gift in our lives—the special love of your dog, a pretty sunset, good health, paid bills, or a fun book to read by the fireplace. It's far easier to pay attention to what's not going well. Challenge yourself to focus on what you are grateful for; you'll be amazed how what you allow your thoughts to dwell on influences your mood significantly.
Tap into spirituality—whatever that is for you. It may be a walk in nature, decorating a tree or lighting a menorah, saying a prayer, or meditation. Whatever spirituality means to you, practice it and connect yourself to the season of wonder.
Get creative. You are innately an amazing person. You have many gifts to bestow the world. Maybe you have already connected with your path of creative expression, or perhaps you are in transition with a career or livelihood. Get out your crafting/art supplies and add to your vision board, practice self-soothing mandala drawings, or indulge in some fun holiday ornamentation which lifts your spirits. If you enjoy cooking or the smells of delicious holiday treats, surround your senses with the comfort of creative ritual through food, décor, and the company of those whose spirits uplift and energize you.
Schedule a planned indulgence as a gift to the fabulous person you are. It can be anything—a massage, a retreat for your favorite hobby/passion/spiritual path, a new outfit, a great book or movie, or that weekend (or week-long) getaway you've been planning on doing.
Volunteer to help the less fortunate. Participate in serving at a soup kitchen for the homeless, adopt a shelter dog/cat, or donate toys/food to nonprofit organizations. Sometimes when we do things for others, we are able to stand outside of ourselves and have some perspective. Plus, we make the world a better place.
The holidays can be a time of joy or, alternatively, stress and blues. I hope the tips above can help in reducing the worries and struggles that can be a part of the holiday season. May you honor yourself and your needs and have a restful, inspiring, and rejuvenating fall and winter.

The preceding article was solely written by the author named above. Any views and opinions expressed are not necessarily shared by GoodTherapy.org. Questions or concerns about the preceding article can be directed to the author or posted as a comment below.