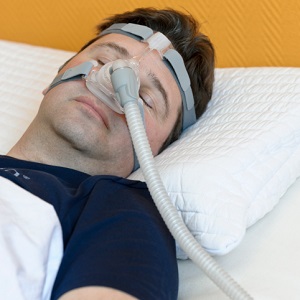 Sleep apnea is an issue that causes pauses in breathing throughout the sleep cycle. This issue can cause people to awaken frequently, snore loudly, and experience disturbances in their dreams. The condition is potentially life-threatening because it can interfere with the brain's oxygen supply.
But people experiencing sleep apnea aren't just stuck dealing with its physical effects. They may also experience mental health challenges.
Depression
A study by the Centers for Disease Control and Prevention found that people with sleep apnea were more likely to experience depression than people in the general population. Disturbances in sleep can affect mental health, and the stress of having a serious medical condition is sufficient to send some people into depression. But sleep apnea is particularly likely to interfere with mental health because of the reduced oxygen supply to the brain at night, which can alter brain functioning and thus increase a person's likelihood of developing depression.
Anxiety
The fact sleep apnea affects people while they're sleeping—a time when people are supposed to be at peace—can be particularly jarring. Some people have to wear special masks connected to continuous positive airway pressure (CPAP) machines to ensure that they breathe normally throughout the night, and the threat of breathing problems can cause severe anxiety. This anxiety, in turn, may make sleep problems worse, and sleep deprivation can contribute to both depression and anxiety, a vicious cycle for people with sleep apnea.
Relationship Problems
For many people, the first sign that they have sleep apnea is a spouse's complaints about snoring. Even extremely supportive spouses might not want to listen to a person with sleep apnea snore all night, and some people with the condition end up sleeping in separate bedrooms. This can decrease opportunities for intimacy and increase relationship dissatisfaction, contributing to stress for both parties.
Changes in Dreams
Many mental health professionals believe dreams are an opportunity to process the events of the day and to encode memories. Dreams also provide a testing ground for anxiety-inducing scenarios, long-term goals, and everyday interactions. Because people with sleep apnea awaken frequently, they may be unable to enter the rapid eye movement (REM) sleep that is necessary for dreaming. Among people who do not enter or remain in REM sleep, there may be a number of mental health problems, ranging from anxiety to difficulty with memory.
Cognitive Impairment
If you can't sleep, can't dream, and are worried about a chronic medical condition, it's not surprising that you might have difficulty concentrating. People with sleep apnea may be exhausted during the day and have trouble focusing on important tasks, including job-related activities. Sleep problems can alter mood, making people with sleep apnea jumpy or quick-tempered, and making it more difficult for them to navigate the challenges of everyday life.
Many of the problems associated with sleep apnea are interconnected, and stress during the day can make sleep apnea worse at night. There are effective treatments, though you might have to try several approaches before something works. If you have sleep problems, consult your doctor.
References:
Lyon, L. (2009, August 24). 7 things that make sleep apnea worse. US News. Retrieved from http://health.usnews.com/health-news/family-health/articles/2009/08/24/7-things-that-make-sleep-apnea-worse
Sleep and mental health. (n.d.). Harvard Health Publications. Retrieved from http://www.health.harvard.edu/newsletters/Harvard_Mental_Health_Letter/2009/July/Sleep-and-mental-health
Sleep apnea can cause depression. (n.d.). New Technology Publishing, Inc. Retrieved from http://www.healthyresources.com/sleep/apnea/articles/depress.html
© Copyright 2012 GoodTherapy.org. All rights reserved.
The preceding article was solely written by the author named above. Any views and opinions expressed are not necessarily shared by GoodTherapy.org. Questions or concerns about the preceding article can be directed to the author or posted as a comment below.