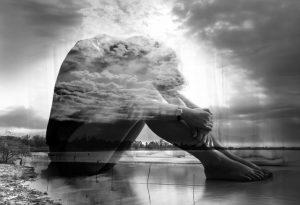 Recently, I've found myself somewhat annoyed at the Pinterest mental health community. I know some may consider it taboo to disagree with other mental health professionals or, worse, to challenge the beliefs of people who live with mental health conditions, but I feel strongly that many in my profession do a great disservice to the people we serve and our culture by perpetuating the belief mental health issues are mostly biological and always require treatment. What irks me even more is that in a well-intentioned effort to reduce stigma, we may suggest there is relatively little individual choice or personal power in creating an emotionally healthful life for oneself.
I saw a pin on Pinterest recently that read, "Depression is an Illness, not a Choice," and it made me angry. While a temporary state of depression can sometimes be caused by biological or hormonal factors, such as in the case of premenstrual dysphoria, most forms of depression are not caused by biological factors but rather by social factors, learned thinking styles, and ineffective behavioral choices. The desire to reduce mental health stigma is well-intentioned, but our efforts can be misguided at times, and we have gone overboard.
Here's why.
First, feelings of depression and anxiety, among other unpleasant experiences, are a normal part of the human condition. Most of us, at one time or another, have avoided doing something because it made us nervous. Are we all disordered? Do we all need medication? By discounting the fact ups, downs, and difficult emotions can be part of normal human growth and development experiences, we fail to give people the knowledge, support, and tools they need to move past those difficult periods. We label these feelings "disorders," which can affect how people view themselves and can become a permanent part of their identity and self-concept.
Second, the medical model of labeling feelings as "illnesses" limits recovery options. In American culture, we have been conditioned to believe illnesses require medication. So that's how we treat them. In other cultures, even some medical illnesses do not necessarily dictate the use of medication. There is an Ayurvedic saying about illness: "When diet is wrong, medicine is of no use. When diet is right, medicine is of no need." Although diet isn't the only factor at play, this ancient wisdom underscores the importance of a healthy lifestyle in avoiding illness.
I believe this notion extends to mental health as well. A healthy emotional lifestyle includes learning how to communicate in relationships to increase closeness and social support; it means learning how to believe in your abilities, conquer your fears, and try new things; and it means practicing mind-calming techniques, such as meditation and yoga, and having the courage to heal old wounds while learning how to create your own happiness.
This page contains at least one affiliate link for the Amazon Services LLC Associates Program, which means GoodTherapy.org receives financial compensation if you make a purchase using an Amazon link.
I recently interviewed Dr. Barry Duncan, author of What's Right With You: Debunking Dysfunction and Changing Your Life. He struck a chord with me when he said, "As crazy as it sounds, problems, like depression, also provide possibilities for living our lives differently, for reaching new conclusions. Depression is obviously painful, and it brings attention to the fact we are not happy with some aspect of our lives. The depression, therefore, can be a life-transformation vehicle."
I agree wholeheartedly. I have experienced severe depression myself—several episodes, in fact. I have felt suicidal on occasion. Yet, those difficult times helped me. They helped me learn about myself, to seek out support and build relationships, and to have more empathy for others who go through similar challenges. Suffering can be a tool for growth, and personal growth, in turn, can lead to more happiness and inner peace.
As Dr. Duncan puts it, "Depression represents a profound crisis—it calls into question our very identity and how we are conducting our lives. It is at once a crisis point, a real danger and an opportunity for incredible change."
By perpetuating the belief depression is an illness, we encourage people to take medication—that in many cases may not help them and can, in some cases, make them worse—without looking at the entire picture of why an individual is depressed and what is truly the best form of help for that person's unique set of circumstances.
Third, by perpetuating the belief depression is an illness, we encourage people to take medication—that in many cases may not help them and can, in some cases, make them worse (Sparks, J., Duncan, B., Cohen, D., & Antonuccio, D., 2010; Valentstein, E., 1998)—without looking at the entire picture of why an individual is depressed and what is truly the best form of help for that person's unique set of circumstances. My view is that in a limited number of cases, medication can be beneficial in the short term but only in combination with psychotherapy. Without therapy, the underlying cause of the depression goes unresolved and the person does not acquire the tools to prevent further episodes.
Dr. Duncan makes an excellent point when he talks about how we, in mental health professions, have contributed to perpetuating myths about a biological basis for depression and, in the process, helped pharmaceutical companies create learned helplessness in people. Many people have bought into the notions life should not include struggle and most individuals do not have the strength or creativity to navigate their challenges. We are empathic and do not enjoy seeing the people we serve suffer, so we often suggest medication. The use of antidepressants has consequently skyrocketed over the past two decades, yet two-thirds of Americans still report not being "very happy." Something isn't working.
Dr. Duncan surprised me with his next comment, and it gave me pause. He suggested that, perhaps unwittingly, mental health practitioners have bought into the illness model of mental health in part because it sustains our work and income. I had never thought of this before, but it's a perspective worth examining. I don't remember ever saying to a person after an intake session: "I think what you are going through is normal. You don't really need therapy for this." Hmm …
The Science of Depression
There are many theories about a possible neurological cause of depression, but very little evidence. In spite of advances in research technologies and neuroimaging studies, a biological cause or marker for depression has yet to be found (Duncan, B., 2005).
Further, meta-analytic reviews of medication treatment for depression found the difference between taking medication and a placebo was less than two points on a popular depression scale (Kirsh, I., 2014). One study found that a psychiatrist with a positive therapeutic alliance with his patients was more effective in improving depression symptoms with a placebo than was a psychiatrist with a poor therapeutic alliance administering a real antidepressant drug (Krupnick, J., Sotsky, S. M., Simmens, S., Moyer, J., Elkin, I., Watkins, J., & Pilkonis, P.A., 1996). In other words, relationships may heal more effectively than medication. In its totality, the research shows that except for a small percentage of people with severe depression, medication does not work well to remit most depressions and, in many cases, has adverse effects.
How to Heal Depression
There are many options to consider in treating your depression. Here are a few:
Make life changes. Sometimes medication allows you to tolerate an intolerable situation. For example, if you have to take medication to cope with your stressful life, it may be time to reevaluate how you live life and perhaps make major changes. One person I work with in therapy decided she would stop being angry and verbally abusive, would learn to have healthy boundaries and say no when appropriate, and discontinue living with a husband who is addicted to alcohol and has a girlfriend on the side. Although this was a difficult time for her, she is much happier now and no longer reports depression symptoms.
Give it some time. Some episodes of depression spontaneously remit with time. Improvement without treatment ranges from 20% to 60% for a given episode of depression (Duncan, B. 2005).
Seek psychotherapy. Studies show psychotherapy is more beneficial than medication in the long run. Therapy maintains a positive effect over time, while medication does not. Psychotherapy can help you identify the causes of your depression and develop a more personalized plan for how you can get better. Therapy teaches the skills you need to manage your mood and difficult emotions. Most people report a lasting benefit when they participate in therapy for at least three to six months.
While medication may be the best option in some cases, research tells us psychotherapy is generally a more effective treatment for depression. The effects can last beyond the treatment, and there are few, if any, unwanted side effects. Therefore, in my view, it should be our first line of defense.
References:
Duncan, B. (2005). What's Right With You: Debunking Dysfunction and Changing Your Life. Deerfield Beach, FL: Health Communications, Inc.
Kirsch, I. (2014). Antidepressants and the Placebo Effect. Zeitschrift Fur Psychologie, 222(3), 128–134. http://doi.org/10.1027/2151-2604/a000176
Krupnick, J. L., Sotsky, S. M., Simmens, S., Moyer, J., Elkin, I., Watkins, J., & Pilkonis, P. A. (1996). The role of the therapeutic alliance in psychotherapy and pharmacotherapy outcome: Findings in the National Institute of Mental Health Treatment of Depression Collaborative Research Program. Journal of Consulting and Clinical Psychology, 64(3), 532-539. doi:10.1037/0022-006x.64.3.532
Sparks, J., Duncan, B., Cohen, D., & Antonuccio, D. (2010). Psychiatric drugs and common factors: An evaluation of risks and benefits for clinical practice. In B. Duncan, S. Miller, B. Wampold, & M. Hubble (Eds.), The heart and soul of change: Delivering what works in therapy (199-236). Washington, DC: American Psychological Association.
Valenstein, E. S. Blaming the Brain: The Truth About Drugs and Mental Health. Free Press, 1998.
© Copyright 2016 GoodTherapy.org. All rights reserved. Permission to publish granted by Chantal Marie Gagnon, PhD, LMHC, GoodTherapy.org Topic Expert Contributor
The preceding article was solely written by the author named above. Any views and opinions expressed are not necessarily shared by GoodTherapy.org. Questions or concerns about the preceding article can be directed to the author or posted as a comment below.